Postcard from Cambodia
MAG
April 7, 2012
Morning dew drifts through the empty roads. The earth is colored only in shadows. A cool breeze gently winds its way through the area. The birds chirp and coo.

It's almost that time.

The roar of Mr. Saren's tuk tuk pierces the noises of the jungle-consumed temples. As he weaves through the old dirt roads, the carved stone faces of guard gates whoosh by. They stare into the distance, smiling slightly, hinting they know a secret that I don't.

The engine putters to a slow stop. In the far distance, the chatter of monkeys can be heard.

"We're here," our new friend says. He points to a bridge. "Find a spot by the pool. It's the prettiest from there." As my mother and I walk away, Mr. Saren strings a hammock between the poles of a canvas covering the tuk tuk. He will nap while he waits.

The clouds are turning from a gray to a pale yellowy pink. A subtle outline of a tower can just be seen. The old stone bridge spans over a quiet moat. As my mom and I cross it, we jump over areas where the stone is missing altogether. On the other side, we climb a short staircase, and pass through the first building of the massive complex of Angkor Wat. A trio of monks wander by – the first of many we will see that morning.

We meander down a long stone promenade, marveling at the grandeur of the temple and surrounding landscape. It's hard to imagine that this place was abandoned and forgotten to the world for centuries.

My mom and I stop at the foot of the reflecting pool. The lotus flowers are open, grasping the last of the crisp dawn air. A hazy reflection of the temple can just be seen. The crowd grows larger as the sun begins to crawl into the sky.

The first rays of light suddenly burst over the top of the sanctum, sending warmth across the land. The temple itself is silhouetted; above it, a stunning array of reds, yellows, pinks, and peaches paint the sky. The aura is spine-tingling. A strange warmth and happiness can be felt. As I breathe in the fresh morning air, I can only wonder what forgotten secrets teem within the walls of mysterious Angkor Wat.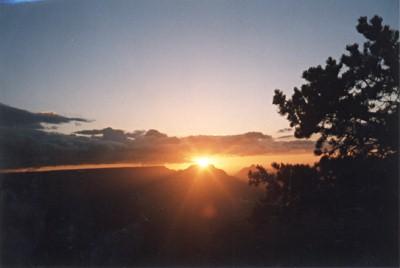 © Amanda T., Scituate, MA