If Time Could Freeze
MAG
My hands trembled as I picked up the basketball after the time-out buzzer sounded. This can't be happening, I thought. How could our starting and second-string point guard be hurt? I am so far down the line of those to play point guard that I never thought I would actually play. Boy, I thought, I'm dead. Little did I know that this game, in the middle of my junior year basketball season, would become one of my greatest accomplishments. But most of all, my dad was there to watch me suck up my fear and play ball.

As the sweat dripped down my forehead, I stepped out on to the court. I pinched myself a few times and closed my eyes to see if when I opened them I would find I was dreaming. But when I opened my eyes, there were two basketball teams, fans, a scoreboard, a basketball court and a basketball. There was no escaping it, I had to play point. I just kept telling myself to do it for the team, be a leader because they would do it for me. Glancing at the bench, I saw my two injured teammates, who were also my best friends. I gave them our secret sign, and at that moment, I knew I could play.

Those two swallowed their anxiety every game. I had to do it this once for them. Our star player was hurt when an opponent slammed her into a wall, breaking her elbow. As for our second-string point guard, she had a chip in her anklebone. As strong as she is, she could barely walk, let alone play.

The score was tied at 31 going into overtime against a team that had beaten us earlier in the season. Four minutes remained on the board and we were already in foul trouble.

Four minutes, I thought, that's all we need to get through. The team grasped hands on the bench as we walked out onto the court. My role was one of the most crucial in the greatest game of our lives.

Now, believe me when I say that that the fact that I hadn't played point guard since freshman year was definitely against me. The refs blew their whistles and the five of us walked out to the center of the court for what would be the last jump ball. Our sneakers squeaked as the ball fell. Shouts from both benches bounced around the gym.

The spectators had a sudden burst of enthusiasm and cheered at the top of their lungs. I vividly remember the adrenaline rush that surged through me as I took the ball down the court. For four whole minutes we went neck and neck, foul-to-foul, point-to-point. The score remained tied as the minutes turned to seconds and time ran out.

The tension in the gym elevated to an unbelievable pitch. Shouts of anxiety and suspense fired up the crowd as the final seconds approached. I looked to the bench to see my teammates holding hands. In those last seconds I forgot about being scared and wishing that I didn't have to do this: being able to play like this was an honor. Then I looked at my dad, who was sitting with his arms clasped together and staring at the court. I knew he was into the game.

I passed the ball to a forward and she made the basket. It was unbelievable. But there were still 14 seconds left and they had possession. All we had to do was make those 14 seconds elapse. The ball was passed in and bam! The best foul shooter on the team got fouled. This was perfect: we were ahead by one point and the clock was still running!

Suddenly we had won! It was truly an amazing accomplishment for us as a team and me as an individual. After team hugs and shaking our enemies' hands, my dad approached. When he told me he was proud of me, it was one of the best moments in my life. It was just one of those times I know will replay in my mind for as long as I live. My team won and my dad was proud - I couldn't have been happier. That January day, I achieved one of my greatest triumphs.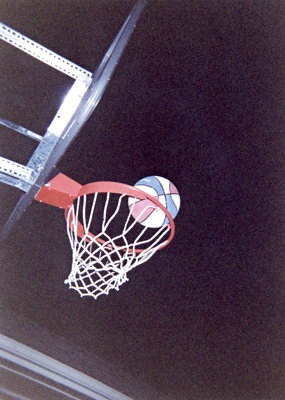 © Anonymous