Mommy and He
February 28, 2016
Love was a losing game for Mommy and He. Mommy had many photos of herself tucked away in dusted green archives pre me. Pre marriage to my father, birth of my brother, brain tumor, New York, and Nashville. Pre road to America, opera school, Juilliard dropout, waitressing 80 hours per week for peanut butter sandwiches and tap water. Pre Lucy in the Sky With Diamonds on acid in dark rooms, deciding she might like how it feels with Simon and Garfunkel playing in the background. Pre depredation in eggshell peeling wallpaper dorm rooms by friends she trusted more than she should have. The only thing they ever gave her was a tarnished blue towelette to wipe away her pride and clean the blood in between her legs. She cried and cried, wishing her tears would wash away the unmistakable stench of being violated in the most intimate way. Before all of this, there was no fear in her eyes.
She told me He was like no other, the radical angel haired man had plaid mud filled hiking boots that were rich in tradition and opinion. On the warm afternoons, He had sunbathed her with golden kisses while they read Shakespeare's Sonnet 116, Her wide eyes and His crooked smiles. She sang Ave Maria softly in the echoed halls of their stained glass Lutheran church while he sat in first pew. As his head leaned back and closed his eyes, he faintly hummed along against the old mahogany, slowly, as her sweet songs lulled him to sleep. They were each other's love and comfort for one Summer, one Autumn, one Winter, and one Spring. Mommy and He were only small pond big fish playing house to Fleetwood Mac records hazy in post virgin moonlight bliss.
With the passing of the seasons, their love grew and changed into a semblance of an amorphous trampoline that was surely there, but was not quite sure what to do besides bounce their doubts away. He was the ocean which waves never stopped coming back to kiss the shore after each push and pull of tide, His undertow sweeping in parts of Her that would never return. Grandmother did not approve. Yet, Mommy was drawn to Him like a moth to bright white light. He was her first other half, affluent with with the most captivating puppy love purity. He was the star of her diary entries, cramped pages filled with hearts over the I's. She had everything in there. From the flower he had tucked into her hair when they first kissed to the condom wrapper crumpled on the floor after their first time. She had their marked up books, scratched records, carnival prizes, and concert tickets. She had everything in there.

She and He were posing in front the amorous starry backdrop in way of their final high school rite of passage. The corners of the photo were rounded and withering like half-truths and a lot could be said about them. Their youthful faces, the way they held each other close. Each figure's posture revealing the undercurrent roles and feelings of their relationship that wouldn't be otherwise seen. He held Mommy close, as if he was trying to get a whiff of the Avon Daisies Won't Tell she had applied earlier. She was never one for perfumes. His white tuxedo jacket with a ruffled black trim and an unironed dress shirt was unkempt and questioning. Travelling eyes, probably scanning the shoebox gym were off focus, legs tilting outwards screamed skittish. His long jaw was hooked around a smirk and unwashed hair, an alienating sight next to my mother. She was an immaculate auburn Farrah Fawcett with a one thousand watt smile. She could have been on the cover of Teen Vogue. The sight of them together didn't measure up to the all consuming, innocent love she had described when we picked the photo out. I don't mean aesthetically, because technically, they were pleasing that way. They were the obvious golden couple of their one stop town, but something still didn't add up. I questioned and She acquiesced. She told me, "Baby, there is no one I loved more than Him. Don't let yourself love a man more than you love you."

The seasons had indeed changed their once infinite love. The sun beat down and their love had withered with the trees and flowers that had once blossomed in the spring. After graduation, She was set to go to Nashville in search of America while He was staying behind. He had no actual plans of coming along with her, but supposedly couldn't bring himself to tell her until she was one foot in the car expecting him to follow. He had brought Samantha McKinney with him to say goodbye, one of Mommy's choir friends from the Lutheran Church. Samantha was due in April.

Yes, the rejection and betrayal of Him was almost too much for Mommy to bear. The hurt had sprung up behind her and set her up for lack of motivation and a depression she couldn't kick until her sophomore year of college. She had left her love for life clutched in the palm of His hand. She would never see that kind of love again. Even with my father, my brother, and I, Mommy was somewhat hardened. Cautious and meticulous, but nevertheless the most caring and lovely person I will ever know. I want to meet Him one day, spit in his coffee, and tell him of all that he missed out on. Not a family or a life beyond the limiting walls of their town, but Her. The pure unadulterated light and beauty within that had out shown the inevitable fading of youth. Her kindred spirit and gentle voice that saved me on my worst days. He would never know that grace.

She hears that He is a Grandfather now. He had kids up to his elbows after graduating with Samantha. Their children are grown, in the same one stop town that was doomed to open its hatches and eat their spirits of adventure for breakfast. I didn't pity him, but She did. There was so much She wanted to give. So much She still wanted to share, even after His infamous betrayal. Word got around fast in that town.

So, I took the last of my notes and put the photo away in the dusted green archive, hopefully not to be seen for quite a while. I had reopened wounds with my poking and prodding, but She told me She didn't mind. She cried and cried, claiming that her tears could now heal and cleanse what words could not. It was rain washing everything away if She let it. She took me in, holding me close to her and whispered the same words to me that she once had before. I nodded thickly, bile rising up in my throat. I swore I've never run so fast to the bathroom in my entire life, purging my soul out of a story I shouldn't have heard.

After splashing my face and brushing my teeth, I saw Her waiting for me by the window. Looking out and beyond, as if she was trying to find some ancient heavenly connection to that God-forsaken man. I pulled her up to me gently and we crashed in my bed until morning found us, sleepy and weary, with dried mascara gluing our eyes closed.
It's the closest to her that I've ever felt.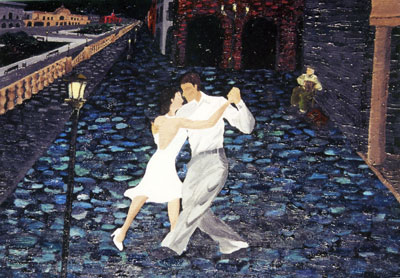 © Elizabeth M., Kannapolis, NC