Guide to Meeting A Homeschooler
September 29, 2014
Why pick on homeschoolers? What makes them so different? I mean, we're people too. We are just the same as you, only we don't have to get up at 6am, and then sit in classrooms with uncomfortable chairs for 40 hours every week. Instead, we get to lay in bed, in our P.J.'s, doing our schoolwork. And let me tell you... that is awesome! So why do you think you're so much better than us? Why does that give you some right to mock us, and laugh at us?
Another thing: why is it you always ask us stupid questions, like "Oh, you're homeschooled?...... What's 1+1?"? Okay, seriously? Just because we're homeschooled doesn't mean we're stupid. Actually, many homeschoolers are ahead of public schoolers. I'll use myself as an example. I'm 15, and I'm a junior. I'm going to graduate when I'm 17, as did my friend Hannah. So don't just assume that someone who doesn't go to public school is stupid and needs extra help.
Homeschoolers are complete social lepers. We have no idea who Katy Perry is, or what the latest trends are, so don't ask us about stuff like that!!!....... yeah, no. We don't live under a rock. We have computers, t.v., magazines, etc. Just because we don't know what so-and-so was wearing the other night, or who hooked up with whom doesn't mean we can't carry on a simple conversation. We happen to be very aware about pop culture and fashion trends.
We are not all church freaks, and homeschool to keep away from the "sinful people of the world". Sure, we're more likely to be regular church attendees. But that doesn't mean we don't want to associate with any other people. Sure, some people homeschool for religious reasons, and I'm not saying that that's a bad reason to homeschool. I'm just saying it's not the only reason. So don't avoid us like the plague because you're scared we're going to lecture you on your sinful behavior.
Do me a favor: the next time you meet a homeschooler, don't ask what's wrong with them, or make fun of them. Just say........ TAKE ME WITH YOU!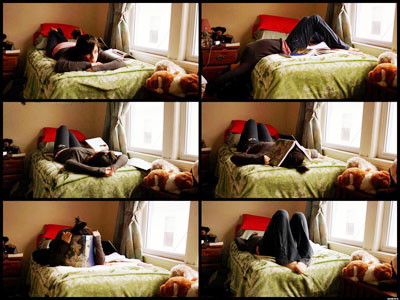 © Ana D., Worcester, MA