Smile. Why?
April 4, 2014
Me and my family were in the car planning about where we should go this summer vacations while my father was driving to my uncle's farmhouse where we would spend some quality time reuniting with each other. I was sitting in the left window seat behind my father with my brother in the right window seat behind my mother and my little baby sister in between well-secured. My other sister was reading her library book in the third seat row of our big car. I turned around to see my sister dozing off with the book open on her face. I shook her shoulder and she opened her eyes a little. "How about going to Italy?" I asked. She groaned in response and sat straight thinking about my idea. "Your blocking my back view, Humera! Sit back.",my father cried. Just then I felt a hard jerk and my body stumbled backwards hitting my head to the window and my mother screamed with a horrified look on her face as my door opened and I went tumbling out of the car and everything went black before I heard a blasting sound and the last thing I saw was a car on fire.

I woke up and sat straight on my bed with sweat on my forehead and neck surrounded with fear. I started to think what really happened in my dream. A terrible car accident! As much as I wanted to go back to my dream and find what would happen next, I didn't want to think of it anymore. Just by imagining the sight of my helpless cries watching my beloved family burn to ashes gave me goosebumps and my eyes watery. I got out of my bed and checked upon my family and sighed as a wave of relief washed upon my face. I went to the kitchen and got myself a glass of water. I calmed myself down as flashes of my nightmare came back to my mind. I looked upon the clock seeing it was four in the morning and I decided to feel the night breeze.

I opened the main door of my house and sat on the front porch steps looking at the night sky. It wasn't completely dark but enough for the stars to shine brightly. The stars on the velvet sky looked like rhinestones. It was an enthralling experience to be walking quietly alone in front of my house as the cool breeze hits my face making my hair fly back and the trees swaying to the beat of the wind waiting for the arrival of the morning sun and the streetlights standing peacefully enjoying the feeling of being underneath the blanket of twinkling stars. Such amazing was to be surrounded by Nature's Night Charm. I went back to my front porch and sat on my father's rocking chair drifting to sleep adoring the enchanting beauty of Nature hoping that very soon the bright sunlight would hit my face which would remind me of being thankful for having the many gifts we have in our life which makes it so beautiful and to smile about...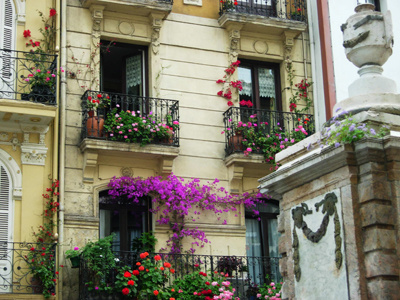 © Hannah O., La Jolla, CA