The Girl with Squeaky Shoes
March 20, 2013
I should have heard her squeaky shoes making their way down the hallway, not any hallway, my hallway. Her voice rings through the hall, I sling my backpack up onto my right shoulder and turn, then start walking to leave, to late, she's seen me now.

"Elainaaaa," she says with a slight whine in her voice. She is one of the only people who call me Elaina, since it's my original name before I was adopted. Her shoes squeak up the hallway as she ran in my direction, it sounded like a duck that wouldn't stop quacking. She hugs me tight, but it feels more as if it was a chokehold on my neck, if she squeezed any tighter I'd think she was trying to kill me, like a snake suffocating a mouse.

I hug her back with no complaints coming out through my lips and smile once she finally lets go of her suffocating grip. She then tries to get me to go to her locker with her, but my feet are glued to the floor and refusing to move, my mind races wondering what benefit I would possibly get by going upstairs; all my friends' lockers are up there.

I let her pull me up the stairwell and into the upper level of the school, and look around for noticeable faces and goes to my friend, just to hand off a note and goes back to squeaky shoes, that's what most people call her in the hallways, only when she wears her famous squeaky shoes.

She pours out what seems like millions of questions, I rest my head against the cool locker door, then close my eyes and just hope she will stop. I open my eyes, and look around, I'm by myself, she has left, and all I hear is the faint sound of squawking of her duck shoes, she is the girl with the squeaky shoes.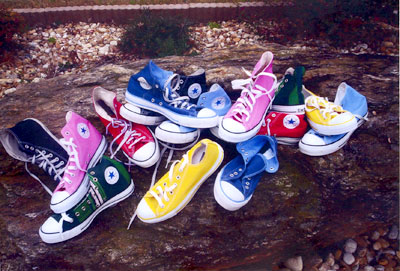 © Leandra L., Stockbridge, GA