Let's Cross That Bridge When We Get To It
January 29, 2013
Human nature: Putting things off. Human nature: Finding it difficult to express love. Human nature: No difficulty in expressing hate (even when there really isn't any). Human nature is, in fact, most reckless. I found out lately. And rather too late I should say because if I had realized my stupidity earlier I guess I might have tried to rectify it. But no, again human nature: we always think we're right and everyone else is wrong.
My grandmother (maternal) has lived with us for as long as I can remember. Her husband died when my mum was seven and she had but four daughters, my mum being the eldest. So she lived with us. Wherever we went, wherever my Papa got posted to that is, she went with us. I remember everything so vividly. Every single thing is as fresh in my mind as if it just happened. And for once I wish, in memoriam, things were bleary.

2003: I was seven. I was absolutely daft. Thought I was the "King of the world"; and mind you not "Queen" as any sane girl would think, no! I always thought "King" was much grander and symbolized greater authority, so I was "King". She was always there for me. She would make snowmen with us in the winter, for back then we lived in the northern areas. And there would be vicious snow fights. Every night she was the one that helped me overcome my fear of nightmares. She showed me how beautiful the world was. Well it WAS then. My world was beautiful and she was in it.

2005: I was ten. Didn't get the world much besides Pokemon and Best Friends Forever. She was always there for me. She was my shield, when Mama or Papa got angry at me. She was the one who taught me how apologizing doesn't make us any less strong; in fact it is what shows who the bigger person is. She would take me to the market secretly and buy me stuff Mama had told me I couldn't get. She would tell me stories, Oh these wonderful stories. We would lie there in her small room and listen to her. With the utterance of each word, opening up a world of imagination. Our tiny little heads going about whirring in their own universe. My world was beautiful and she was in it.

2007: I was twelve. Almost a teenager. And that teenager attitude had already made its way through. I had many arguments with her. Despite knowing all the things she'd done for me. Despite knowing that despite all my bickering she was still there for me, I wasn't there for her. When I should have told her I loved her, the words got stuck in my throat as if glued there. When I should have held her close to me, I didn't. When I should have showed her that I really did care for her and it was just this stupid stupid change I was going through that gave me mood swings, I didn't. My Mama got really angry at me sometimes for behaving so badly and would even make me so ashamed but still I wouldn't be able to do what I should have done. My world was beautiful though I wouldn't admit it, and she was in it.

2009: I was fourteen. She was diagnosed with heart disease. Open Heart Surgery was carried through immediately. It was successful and she came back home. She was on a wheelchair because in trying to find a vein to replace in her heart the doctors had to cut open both her legs from top to bottom. We took care of her. I took care too, but still the words were stuck in my throat. And then her heart stopped again, only a few months after the surgery (Her legs hadn't even healed completely and I think that was the reason for her depression, that they were taking so long to heal). It was all so unthinkable, that I was in denial for long. The hospital was right behind our house so she was taken there quickly.
After 45 minutes of CPR and 5 injections to the heart, life came back to her. But in those 45 minutes her brain had not received oxygen so it got damaged and she was in a coma-like state. In the next few days she seemed to be able to move her arms and legs a bit but no other senses seemed to respond. I couldn't believe the images my eyes sent to my brain. I couldn't understand. I couldn't comprehend how such a thing could ever happen. She wasn't even that old, 60 maybe 65… I don't know… people live to be a hundred. The only thing I could think of was "Why her?" Though the doctors said that the only hope left anymore was in a miracle. I believed in miracles. I had complete faith in God and prayed every single effing day. My world was beautiful but it seemed to be upon the verge of breaking apart because she was slipping away from me.
2013: I am seventeen. Will turn eighteen in October. She's been there, all these years, but she can't see. I can't tell if she can hear or not because sometimes it sure seems like she can. When I speak to her and she tilts her head as if straining to listen yet her eyes look in awkward directions staring into empty space. She's missed some of the most important years of my life. There's so much I've wanted to tell her. So much I've wanted to share. So much I've wanted to show. So much I've done that she would've been proud of. I could still tell her (despite the fact that I have no idea if she can hear me) but whenever I look at her or try to say something tears well up in my eyes. I can't see her like this. This isn't how it should have been. Even though I may not have deserved her, SHE did deserve much more. She did. I still have faith but hope is so hard to hold onto.

And now I won't say my world isn't beautiful anymore. Because that would be making the same mistake all over again. I still have the rest of my family (though I may not always agree with them) and my friends (though most of them live far away from me). And again the cycle goes on. My mother has been as devastated for the past four years as anyone could imagine. She's almost lost meaning in life. And again the words are stuck. I don't know what to say to her. I don't know how to say it. I don't know why I can't. I don't know.

One thing I do know is that sometimes we should, no; we must fight human nature and tell it to zip it. We must live in the moment for the only certain thing about life is its uncertainty. And what really matters is loving our loved ones in every way possible. And saying "Let's cross that bridge when we get to it": Dumbest thing in the world. Because you never really know if you WILL cross that bridge. There's never going to be some huge billboard sign to tell you now's the moment. And words DO matter no matter how many people say that they don't. Actions should accompany the words. Because really, some things actually ARE impossible despite everyone crying for the fact that "Impossible" itself says "I am possible".

Like turning back time and telling my grandmother how much I loved her and how much I still love her, and how badly I need her to come back for me.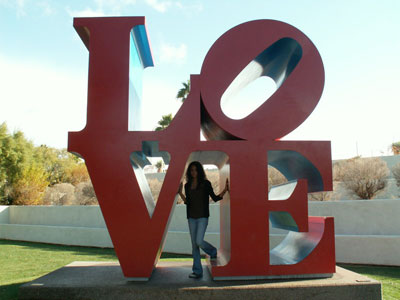 © Shannon E., Glendale, AZ