A Girl I Met
December 25, 2012
Written 12-9-12

I met a girl in my freshman year of high school.

We did not go to the same school, live in the same place, or share the same background; but we had suffered in similar ways. This girl's name was Sarah and she was several inches shorter than me and had wide blue eyes that I felt I could swim in. This same girl was also a tall striking black woman with hair wore in a thick bun, similar in fashion to what I often wore back in those days.

The girl's name was Katie and Michelle and Sophie and Mallory and then again, sometimes I have to strain to remember her name. She was a petite Jewish girl whose parents were talkative and nervous. She was my age, but she was also a 50ish woman who had lipstick and eyeliner tattooed onto her face. She was a mother who had guiltily left her adoptive children to come here, to this place.

She was overweight with the prettiest face and the saddest smile. She was shockingly emaciated, and I couldn't stand to watch her tearful face when she announced to the room after dinner that she, for sure, was the fattest one there.

She was an angry and slightly scary Italian girl who was my brother's age. She was curly haired with an autistic brother and was even younger than me then, only 14; she was a woman who tearfully explained to a room how she had been molested by a police officer when she was a child; she was an engaged, self-conscious young woman whose father was an alcoholic; she was a 15-year old blonde who lived in Rye, New York and was terribly rich.

She was the lesbian who seemed so self-confident with her short hair and witty comebacks; she was the funniest girl in the room, who had the prettiest voice I'd ever heard; she was the girl who broke down in the middle of lunch one day and couldn't quite explain why.

She was the 47-year old who couldn't believe she was back in the same place she'd been in over twenty-years before; she was the fiery redhead who was hard to talk to; she was the grossly thin blonde who had gotten married and soon after had been sent here; she was the girl who cut her wrists with a passion most can't imagine and ran away from that place that she couldn't stand to live in any longer; she was my roommate who I still keep in touch with.

She was a Mormon, a Jew, a Catholic, an Atheist, and an evangelic. She was a theatre kid and a track runner and a college educated adult and a Kindergarten teacher. She was a high school student like me, and she was a lonely one whose sadness had more depth than a 6-foot grave.
She is a teenage mother now, and she has moved to Arizona, and she died in a car crash last year at 17 and she is a newlywed. She is the girl who went back to that place months later and she is the woman who no one has heard from since we left.

She was all of these people, and she was also me. She was me in Spring of 2011, eons ago. She was me and I was her and we were all the same, back in that place so long ago. We were the group of girls and women who made up that place, who helped each other, who knew each other's pain more than anyone else could ever understand.

She is the girl I met. My parents don't know her, my friends don't know her, and none of you listening to this know her. She is the secret I keep safe in my pocket, the secret I carry around every day. And I am theirs.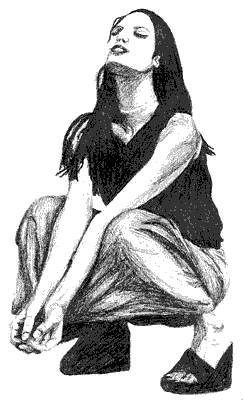 © Danielle B., Cordydon, IA