Unexpected Leadership
October 6, 2011
At the beginning of my freshman year, I never expected Cross Country to teach me
some of the most valuable lessons of my life.

While running on a sunny, perfectly normal day, a junior named Hannah stopped and
stared down a side street. Wondering what she found so fascinating, I ran up to her and
followed her gaze. There, lying across the sidewalk, was a motionless girl; two equally
motionless teenagers stood beside her, staring at her in shock. Hannah and I hesitantly walked
towards them, six other runners trailing behind us. I asked if she was okay and received no
response. Hannah asked, "Is this a trick?"

Silence.

Instead of helping, we wasted time by repeating Hannah's question accusingly. Finally, I
asked, "What happened?"

"I don't know," they muttered.

Out of ten bystanders, not one was doing any good.

Hannah and I looked at each other, asking back and forth, "Should we do something?"

We were completely clueless and panicked. No one else was doing anything. I kept expecting
someone older to take charge.

At last I decided to act. So what if I was the youngest person there? We didn't even
know if the girl was alive. We couldn't even tell if she was breathing.

"We need to call 911," I said and started walking up to the nearest house; everyone else
followed. Not very helpful, I thought. I told them to try the next house, too. All those older kids, even seniors, listened to me, the freshman. My world tilted on its axis.

No one answered the door at the house I tried, so when the neighbors called 911 at the
house where I had sent the other girls, I was pleased, but I didn't know what to do next.

We gathered around the girl like spectators. I knelt down and saw that she was breathing faintly. A good sign, but what now?

"I think she's saying something," said my friend.

I knelt down again and asked her to repeat it. After several tries, I heard her whisper, "My side hurts." I considered moving her, but someone said not to. I agreed, and then I babbled and asked her questions to keep her awake; it worked.

Initially, I was furious that so few of us had acted, especially when I found out the first
two bystanders had a cell phone the entire time. Upon reflection, I realized that it wasn't entirely
their fault. I learned that shock is immensely powerful; I couldn't hate them for it.

I, the tiny freshman, helped save someone's life. That day I learned how not to waste time in a crisis, to act instead of react. I learned that despite someone's age or rank, we're all human. We care, but sometimes we panic and can't help it. It taught me not to let fear hold me back, to take the initiative and be a leader. I learned that I can and will make a difference.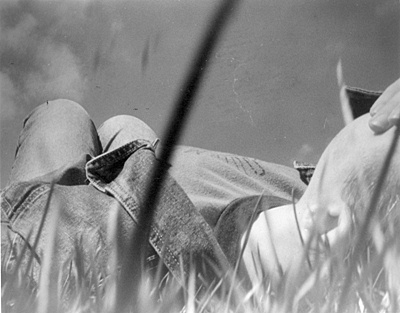 © Tabitha H., Dekalb, IL