Greece the Honorable Legend
September 30, 2011
Growing up in a Greek family I thought I was culturally adverse because they acted like your stereotypical Greek Family. It was not until I visited Greece and got to interact further with real-life Greeks, that I noticed the differences between Greek Americans and Greeks. The knowledge I obtained from this scenario was totally unexpected. That just goes to show that we truly don't know it all, even when we think we do.

Once the language barrier was broken, and my basic understanding of their culture was developed I got to feel the honor each Greek seemed to be born with. It was magnificent to see so many honorable people in one spot. I could feel their love for each day and desire to be a Greek living in Greece seep into my skin. It opened my eyes to a whole new perspective they never meant to impose upon me.

Greece never seemed like a foreign thing to me up to the point before I assisted the head of the Boston marathon with its Greek runners. The day they arrived in our small town of Hopkinton, for what they considered one of the biggest events in their lives, my outlook of life did a complete three sixty. I was the girl who thought she had an answer to everything, except for my own questions I could not explain. Now I am the girl who seems too insignificant to a world so wide and unknown. I understand my impact changes everything I come in contact with but I feel as though America has led me down a false road to success.

I now strive to live more like the Greeks do, excited to wake up in the mornings for things to come and to have made it thus far; trying to jam pack each day with as many activities as possible. Though they are not here guiding me to fulfill this to the best way possible I feel their honor pulsing through my blood stream warming me with hope, and strength.

There seems to be a hidden connection that is felt by being Greek. You feel connected to the land and the people, even if you have never made the trip to see Greece's beauty. I remember I felt this same sense of honor radiating from the people I met when I travelled throughout Greece, as well as the Greeks running the marathon. It is hard to tell if we are all bred with this sense or if we learn to feel this way once we learn about our valiant history.
Back then people strived to be like Greece or Rome, higher powers at the time, taking away their art, blending it into their own cultures, and learning from Greeks philosophers and scientists. We learn of our great triumph in battles and tactics we conveyed. Even our cultures myths are still widely known, with gods of all powers. Whether this is what has influenced us to feel honor, or whether we are born with it, it continually plagues the population of Greeks. We are honored to be associated with the wonders that have been founded in Greece.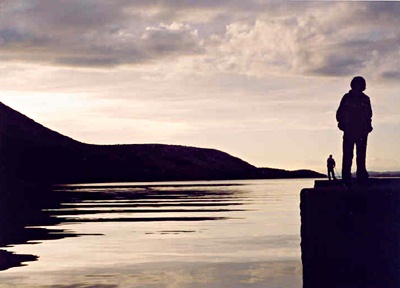 © Julia K., Nagykovacsi, Hungary