Writer's Block
July 15, 2011
It sits there, mocking me. Telling me I can't win. I know it waits for me in the morning light, stays with me like a heavy burden until the sun sets. Only when I lay in the darkness, waiting for sleep to take over me, does it shrink away and my mind opens up.

So I try so hard to do as much as I can while it is away. I write quickly, using a flashlight as my light. It loves the light. Too much will bring it back. The strain hurts my eyes, is making me blind. But I write anyway, desperate to get my work done.

And then the sun rises, and again it comes to haunt me, blocking my creativity. I don't know how to escape it. I cannot hide in the dark forever, but it is the only place I find refuge. I need help, but I don't know who to go to.

This cycle continues on, day after day, week after week, month after month. Until I find an escape I am trapped here, trapped in the light, yet surrounded by a shroud of darkness that blocks my vision. I can't see. I can't hear. I can't breathe.

I can't do anything.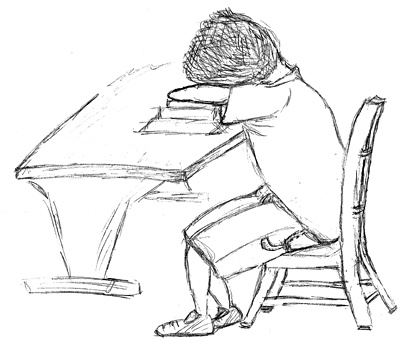 © Franziska K., Milford, CT