Torture on the Court
February 23, 2011
"You're not doing it right. Again," I heard Molly smirk behind me as I went up for the shot. The basketball left my hands and sailed through the air, but before it reached the basket I knew it was off. I was right. It hit the orange rim with a loud clang, and bounced to the ground. I felt the color rise to my cheeks, lowering my eyes to the ground so no one could see the tears welling up in them. My team-mates stood with me on the court, people who I thought were my friends. Friends who I thought would stand up for me. They didn't.

I squeezed my eyes shut, trying to make the salty tears disappear. I wouldn't let them see me cry.

We lined up for fast breaks, and I sprinted just as hard, but fell a few feet behind the track-star-worthy players. I heard the snickers behind me, but I took shaky breaths and kept going.

When we took a water break, I went to the bathroom and hid in a stall, vigorously rubbing at my eyes. I wouldn't let them see me cry.

When Anna passed a ball to me during a scrimmage, I felt it make contact with my nose. I felt the blood pour out like a faucet, and I dropped to the ground. I heard the high pitched, unforgiving laughter burst out behind me. As I stumbled to the nurse's office, I could hear it ringing in my ears like the game buzzer. My mind played its merciless games with me, whispering the rumors and lies they were saying behind my back.

When the nurse wasn't looking, I took a tissue off of her desk and wiped my eyes. I wouldn't let them see me cry.

When Mr. Connor picked his A-team and left me sitting on the bench, I felt all of the players' eyes on me. Their stares were hot like lava but cold like ice, too hot to look at but too cold to look away from. When we finally left practice, I picked up my jacket and headed home, letting the tears spill down my face.

I would never let them see me cry.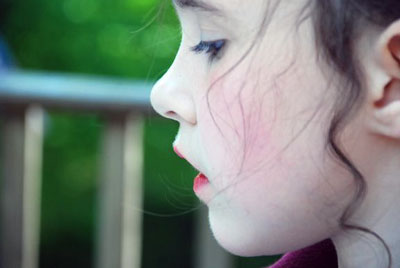 © Julie P., Rochdale, MA