How He Shaped My Heart
January 10, 2011
The cold burned my bones and I shook furiously. He forced his jacket upon me, insisting that he was supposed to take care of me. I reluctantly accepted. This is his typical self. It seems that his first priority is always to make sure I am perfectly comfortable. I can stay up late thinking about it every night, but I can never put a phrase to how I feel about him. Except this one: I love him.
So we found ourselves outside. It was cold and the wind blew. I thought our situation to be unfortunate. That's when he leaned over and kissed me. He pulled away for a second that felt much too long and whispered in my ear.
He said,"I love you." I could feel his breath on my neck and goose bumps appeared on my skin. I was speechless. He pulled me back into our kiss and held me there. I was out of breath when he pulled away. Disappointment washed over me. The only place I wanted to be was at the mercy of his lips. We sat in an easy silence for quite awhile.
He broke it eventually, "Look at the moon. It's so bright." I grinned. After just a few more seconds, he looked displeased with my expression.
"What's wrong, sweetheart?" He appeared genuinely concerned. I shook my head and smiled slightly. I took a second to think and asked him how he could always tell when I was thinking about something. His face transitioned into a look of pleasure and he laid out on the grass. A concerned look flitted over his features and he sat up.
"I just can," he shrugged again. I laughed. He brushed the hair out of my face and let his hand linger. I closed my eyes and breathed in the smell of his cologne. He continued to cradle my face in his hands and he slowly leaned closer, allowing me to kiss him again. This time, I pulled away and I looked down, concerned.
He sighed, "What's wrong, baby?" I allowed another smile to cross my face. He pulled my chin up, obligating me to look him in the eye.
"You look at me…you look at me like.." I started.
"Like what, honey?"
"Like you love me. Like I'm pretty." I glanced at his expression. His face was spread into a wide grin.
"That's because I do love you, and you are pretty. Sweetheart, you are gorgeous." He held my face in his hands gently. His fingers combed through my hair and stopped at the back of my head. He slowly pulled me in to kiss me and I savored the moment. Just before reaching my lips, he stopped.
"I love you," he whispered softly. I smiled bashfully. With that, he closed the distance between our lips. I pulled back.
"Wait. I love you, too." He beamed and held me. I wish he'd never let go, but he shaped my heart, and I'll never forget him.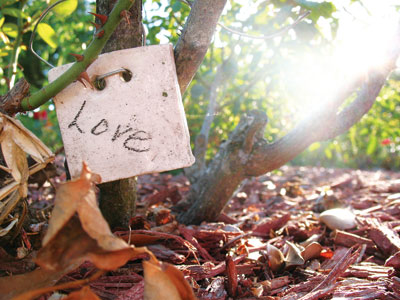 © Danielle L., League City, TX