Texting in the Lemon Room
December 3, 2010
Cat texts me. I pull my phone out of my pocket, flipping it over sideways. It reads as follows: "Story time? Its a short one 2day since I didnt get to he him much..." I notice the 'he him' part, but get the picture. I text back.

"Sure, story time :D"

I sit on the cushy blue material that is the seat in room 2 as Cat and I exchange our day's stories. The walls are painted a soft, lime green, contrasting against the lemon that is painted adjacent from my seat. In the middle of the lemon, dark green letters spell out one word: "Del's".

I take a deep breath, resting my head against the wall and turning it to the right. A mural of a large cup of frozen lemonade stares me in the face. I know that the strip of yellow I'm leaning against depicts a parade of marching fruit, waving banners containing one phrase: "Ocean State Pediatrics".

My phone buzzes. I pull it out of my special phone spot- my brown, Bearpaw boot. It's Cat again. It's her story time story.

"Alright," it reads. "well I stand outside my history room looking 4 someone 2 talk 2 (I secretly knew ricky was gonna walk by) but he did and he looked at me and". I scroll to the next text- the story was too long, apparently, to squeeze into one screen at the same time. I continued reading. "stopped and said I have an amp <he held up a guiter amp> and im like y? And he said because I can and like okay... And he started 2 walk away."

Yeah, Cat's not the best text- speller.

"lol thats cute. random amp? haha :D" I text back.

The seconds tick by while I await Cat's reply. I stare blankly at the wall, saying a silent prayer to God. God, please be with me while I get this shot. You know how I am with shots.

My mind wanders randomly, indecisive on what to think about. I receive Cat's answer.

"Yeah but it was cute :)" it says. I laugh inwardly. Ricky was just a cute person; Cat's countless tales of her times spent with him told me that. Then again, everything Ricky did was cute- according to Cat anyway.

"lol yes, it sounds it :3 hahaha" my text reads.

I sigh. The nurse's been gone for a while. I had already gotten the swine flu mist up my nose, which proved Danielle and Rachael wrong: it really wasn't that bad. I could taste its bittersweetness in the back of my throat, but it was a faint taste. All I wanted to do was get this stupid shot over with.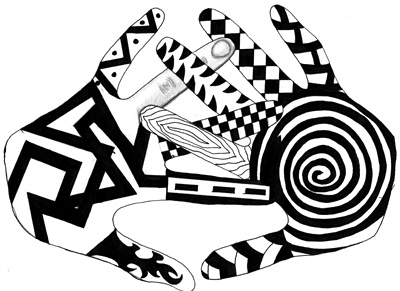 © Sarah F., Naples, FL