Love Is Blind
November 11, 2010
She wakes up every morning, puts on her makeup, brushes her silky blonde hair, and goes to high school. She is fourteen, beautiful, popular, the captain of the cheerleading squad, and the girl in every boy's dreams. Emma felt incomplete. One day she held the steel barrel to her head and pulled the trigger.

Every Sunday she woke up and got ready to go to church. She put on her blue jeans and her brand new Abercrombie top. The blouse was blue and on the bottom white flowers were delicately sewn. As she pulled the shirt over her head the scent invaded her senses, it still smelt exactly like the store. Her hair was long, blonde and curly. The curls draped over her shoulder and looked like a curtain of gold silk. She was tall, slender, and stunning. As she looked herself over in the mirror, staring, making her mind her very own plastic surgeon. "If only my stomach was flatter," she thought to herself sucking in her stomach so the projection of her ribs jutted out of her torso. "Emma, are you ready?" her mom yelled, looking herself over one more time, Emma ran out of the house and headed to Sunday school.

It was now a Tuesday, and Sunday's church sermon rang in her head like bells. Does God really love me? If so why did he leave me in such a horrible place? Shouldn't it be beautiful? These thoughts skipped through her head like a broken record. Emma's week had been going downhill. Girls began to spread rumors, gossiped about her, and the schools latest buzz made its coarse. Feeling hurt, alone, and betrayed Emma left school that day with tears streaming down her face like rain drops on a window pane. Her mom and dad were gone at work, so she just had her regular routine of taking the bus home to her small house in the country. Oh, how she wanted to get away from Missouri. Retrieving the key from under her mother's tacky welcome mat, she opened the door, and slammed it behind her. Breathing heavily leaning on the door, she wiped her tears. Looking down at her hands she saw her running mascara and the salt stains from her tears.

Emma was tired of life, tired of having people make up lies. "If God really loved me, He wouldn't have put me through this!" she yelled, and stormed off to her father's office. She violently opened the cupboards which led to her fathers gun collection, grabbed a barrel of a gun, ripped it out of its case, and in full fury ran outside. She held the gun to her head. The coldness of the steel on the skin of her temple sent shivers all the way up and down her spine. Trembling, she pulled the trigger, and her body limp, fell to the moist grass.

Every Sunday she wakes up to go to church, but this time, she wakes up in complete, total darkness. The damage of the shot wasn't what she had planned. Luckily, Emma did not end her life. However, she just started a new one. The bullet penetrated through the skin of her temples, leaving her with mental retardation and permanent blindness.

I met Emma at a camp specifically for kids with special needs in the summer of 2007. While her mother explained to me her conditions, all I felt was the warm tears streaming from my cheeks and the strongest feeling of compassion towards this teenager. Luckily, I got the amazing privilege of being with her for a whole week. As you looked at her, you could see the impressions of the scars from each side of her temples as if they were chiseled into her skin. While examining her face, you could still see her beauty, and an expression of complete joy. Her blonde hair was always bouncy just like her attitude about God and life. Emma always complimented me on my clothes, my hair, and my outer appearance. I was always perplexed when she said such things because, she could never see me, but she treated me with such love and kindness. I remember her mother telling my cabin stories of how when she was "able" she had never had the strong love that she has for Jesus Christ than she has now. She skipped around smiling, singing, complimenting, and loving even though the outside world had done this to her. Therefore, love is blind and sometimes I wish people in this world were just like Emma.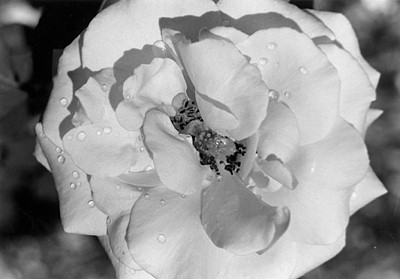 © Kristin O., Quincy, MA