My Noah
November 3, 2010
I was normal. I was happy. I was an excited 14 year old girl, just starting 8th grade. I sat down at a desk on the left side of the room and waited for everyone to sit down so class could begin. You came into class late, looking slightly confused. Like you weren't sure that was where you were supposed to be. I was entranced by you. I don't know if it was the way the light played in your pale brown eyes or the way the raindrops in your sandy blonde hair sparkled, but something about you fascinated me. I watched as you took a seat across the room. I was very happy when a few minutes later, Mr. Adams assigned us new seats and you were seated diagonal from me.

Over the next month I watched you in the hallway and held on to every word you said, though none of them were directed at me. I told myself that I would get up the nerve to talk to you. And day dreamed about what I would say; even though I knew in my heart that I would never say it.

It was Saturday night during pony wagon days. The darkness was lit up by carnival ride lights, laughter and the smell of cotton candy and hot dogs. My sister and your friend were going to sing karaoke together. They were practicing on the sidewalk behind the stage. You were listening to them when I walked up. When they finished the song you looked at me and said "They're really good aren't they?"

I smiled and said "They're amazing." That was the first time we spoke. You probably don't even remember it now. But it was the turning point in my life. I knew when I looked into your glowing eyes that I was in love with you. And ever since then I've been falling deeper and deeper.

The next time we spoke was in history class. We were doing a group project and you were in the same group as one of my friends. You couldn't find the information you needed and since Zach was busy, he asked me to help you. I was so happy, but strangely not nervous at all. I stood at your desk and helped you find the information. When I was about to go back to my seat you said "Man, your smart." and smiled. I giggled and grinned saying,

"So I've been told." before going back to my seat.

The next day during study hall you came and sat down across from me at my desk. We began talking, and instead of the expected nervousness and forced conversation, our words flowed freely. I have no idea what we talked about that first day. Only that it started a tradition that made me dread the end of study hall everyday, and the end of 8th grade.

Everyday we sat in that classroom and talked. I now know more about you than I know about any other person. But I still have so much to learn. I know your favorite color, I know your favorite band. I know that you love rain and that you hate injustice. But I still haven't figured out why you do the things you do. I still don't know how that mind behind those honey-gold eyes works.

After a while, more people joined our study hall group and our conversations became less personal. For all the things we told each other were for us, and not the rest of the world. We still found time that could be just ours but it was seldom and nothing was like it used to be.

You changed. or maybe it was me. Either way, we hardly ever talk now. And when we do, our words are hollow. Either way, I'm still falling deeper and deeper in love with you. And you still don't really understand how I feel.

Somewhere deep in my heart I know that my love for you is not returned and that it never will be. But all that knowing does no good because it's buried in hope that you will fall desperately in love with me and we will live happily ever after. Hope that is only salt in the wound you have caused me. Hope that I cant seem to get rid of, no matter how hard I try. Now I'm just a sad and confused 14 year old girl who will always be in love with you.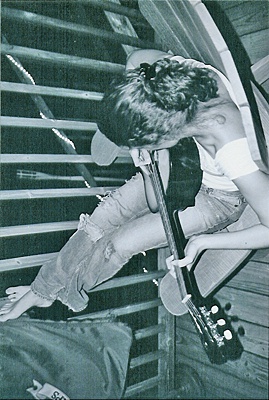 © Kendall B, Katy, TX