Daddy's Girl
October 25, 2010
The sleepy child leans against her father. She begins to shiver because she is cold. He pulls her closer and rubs her back. Tears begin to slide down her red cheeks as he hums a random song. Wanting to hear it one more time the eight year old says "Daddy tell me about the day I was born." He smiles and turns her around tucking her into bed with his rough yet gentle hands. "Do you promise to go to bed?" "I pinky promise with all my heart." She promised with her solemn hazel eyes.


"Your mother had just woken up and was craving Hardees Biscuits' and Gravy. I was driving and we were listening to Garth Brooks song The Dance. When we pulled into the drive through your mom decided she had to use the bathroom. I let her out and as she got up to run inside and water fell to the ground through her shorts. She screamed 'Richie my water just broke' and she hopped right back in my car and we sped towards the hospital. Your mother was in labor for seventy one hours before you finally showed up. The doctors were playing the radio and Blue Sky came on when they pulled you out.


"Your mom tried to sit up because she was worried. You didn't make a sound, but I was over smiling. You were so curious, you just looked around yourself in wonder. Your mom held you for about a minute before she fell asleep. I held you in my arms and we watched the sun go down while I swayed back and forth to Blue Sky. You just curled up in my arms and seemed as happy as could be. I wanted to name you Savanna Michelle but your mom named you Caitlin. Your grandmother called you Catie B to spite your mother. You were the funniest baby, you never cried unless you were hungry. When you needed a diaper change you just stared at your mother until she checked it out.


"Your first word was cookie and the same day you took your first steps. When you were seven months you already said Daddy, Cookie, Ma, No, and oddest of all Dream. You figured out how to get out of every crib and high chair and you even knew how to get the baby locks undone. You were one smart baby and drove your mama crazy. I never stopped smiling, even when you cried." The father looked down at his daughter who was now sound asleep with a peaceful smile on her face. Her mother didn't really ever hold her until the child was six months old. The doctors put her on medicine that made her sick all the time. It was up to the father to cuddle the baby and keep her happy. "


To this day the father still tells his daughter the story of her birth before she goes to bed every night. And every night she falls asleep curled against him. His shoulders and arms that still fit perfectly around his sixteen year old daughters sleeping form. She is still his baby and she will always be daddy's girl. Nothing can and ever will change that. Her favorite movie was king pin and her favorite song was Arms of An Angel. She is now a junior in high school.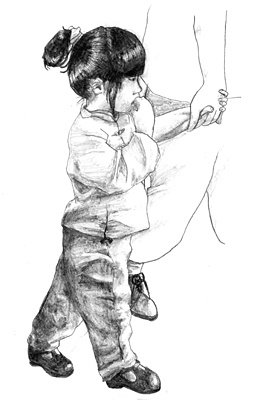 © Laura K., Kendall Park, NJ