Today is Magical
August 10, 2010
Today is Magical.
I got to school about an hour early. Naturally, no one else was there yet. As I sat in the empty hallways waiting for other students to arrive, I heard a faint whistle. This wasn't just any ordinary whistle, though. This was the strong, clear, two-toned whistle of the great Wizard Gandalf, used by him to call Shadowfax.
Naturally, I sat up and stared through the glass double doors at the end of the hallway, knowing that if a white horse ran by, I would run out of the building yelling, "GANDALF!!!" at the top of my lungs.
After a few seconds of waiting, I leaned back against the wall with mild disappointment. Then, a Noise came, so faint I can't even say that I truly heard it: A horse's nickering breath, from somewhere toward the front of the school.
I wanted to jump up and run to find Gandalf and Shadowfax, but of course they would've been gone by the time I got there. So, I settled back against the wall with the biggest smile imaginable on my face. I have a feeling that today is going to be Magical.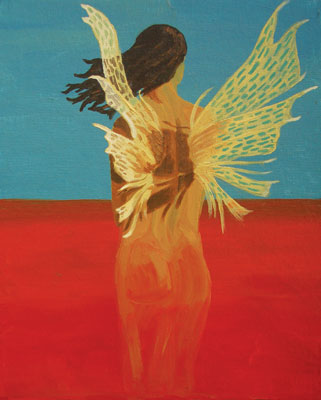 © Allison F., Langhorne, PA