Socks
June 27, 2010
He is sprawled out comfortably under the treehouse.
Occasionally, he rises and strolls around a bit, talk flicking proudly in the air, then settles in the soft grass yet again.
The sun bathes him in a royal glow. "I am king," says his regal shadow.
Suddenly, shrill chirping comes from the corner of the treehouse. The birds have awoken.
The cat's ears perk curiously, and a sly grin takes over his face. More chirping.
The cat's tongue crawls out of his mouth and runs over his lips in hungry delight. Lunchtime.
All of a sudden, the slight patter of rain drips from the sky, gradually becoming a roar far louder than the cat's. It is pouring.
The cat's smile is replaced with a disappointed scowl. He runs off, hissing, into the rain.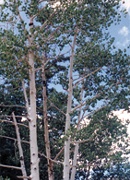 © Bethany D., Philadelphia, PA