Am I Jewish or Christian? Developing An Identity
June 24, 2010
The other day I was talking with my older sister and we had a very interesting conversation about religion. I was born into a family with several religions. My dad was raised Catholic and my mom was raised Jewish. Neither of them ever felt much of a connection to their religion.
When I was three we moved to our current town. After a few years my sister reached the age that a lot of kids traditionally start studying to become a Bat or Bar Mitzvah at. A Bar or Bat Mitzvah is a Jewish coming of age ceremony held at age 13. My sister decided, after a bit of thought, that she wanted to pursue this path and study to become a Bat Mitzvah.
When it became that time for me, I knew already that I wanted to have a Bat Mitzvah. Why? Because my sister was having one, of course. How could I not want to have one? So, I started learning to read Hebrew, and learning a bit of vocabulary along the way. I performed the ceremony last fall and became a Bat Mitzvah.
All my life we have celebrated holidays such as Pesach, Yom Kippur and Rosh Hashanah by going to synagogue and Seders. And we have also celebrated Christmas and Easter with my paternal relatives. And this is the reason for my conversation with my sister the other day.
What I'm really writing about in this piece is the identity I've always held for myself. Do I say I am Jewish, or do I say I am from a family with mixed religions? Over the years my perception of this has changed, and until the other day I never even noticed.
I used to say, "I am half Jewish and half Christian." Well, wasn't I? My family celebrated holidays from both religions. I felt as much Christian as Jewish, because one parent was Christian and the other Jewish. It was half and half exactly.
After a while I started telling people that I was Jewish, but a little bit Christian as well. I was studying to become a Bat Mitzvah, but I also celebrated a few major (if commercialized) Christian holidays. Sometimes I even went so far as to explain the whole situation with the holidays and such. I also enjoyed telling people that because I celebrated both Christmas and Chanukah, I received exactly twice the amount of presents that I would have otherwise. It was, I felt, a white lie.
Now, I identify myself almost completely with Judaism. I chose to become a Bat Mitzvah, and in doing this I chose to be Jewish. At the time that I decided to study to be a Bat Mitzvah I didn't even know how huge a decision I was making, in the long run. I think there will always be that little bit of awareness in me that I am, as I used to put it, "half Christian and half Jewish" on some level. I suppose it is inevitable to have that, since I have a dad who was brought up Catholic.
So as I was talking to my sister the other day we realized that we both went through the same changes in perception of our religious identities, at different times. It made me think about how similar we are. We both told people the same things as our views on the issue changed. And now, we both think of ourselves as just plain Jewish. I am Jewish. It is my identity. And yet, as long as I live, I will never forget that I used to be half Christian and half Jewish.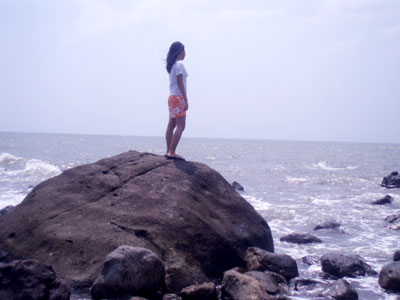 © Grace L., Bacolod City, Philippines