Burned Again
October 18, 2009
My whole body felt as if it was on fire, my tears and sobs unable to stop this burning sensation. They simply added to the burn. This was my entire fault; I gave my heart away, and was burned…again.

I actually thought he could like me back. For two whole years, I was hoping and praying. Praying for what, though? In the end, here I am, hurt. I saw it coming. Ricky came off as a jerk from the beginning. He only talked to me when he felt like it, and only cared when it was convenient. Now, two years later, I'm the one who sits here, burnt.

For two whole years, he never told me if he liked me or not. Not until a couple weeks ago, when he sat next to me on the bench outside of school, and told me he liked me. He said he wanted to take me out to dinner and a movie, maybe have a relationship. Imagine, the boy I've liked for so long, finally liking me back. My heart did fifty jumping jacks in that second, and I trusted his word instantly.

I was all he wanted to talk to for the next two weeks. All I could think was, "Ricky cares about me. He really cares now. Now we can actually have a relationship. I just know this will last."

He took the time to get to know me, because he wanted to be closer with me before we dated. I told him all about myself, everything he wanted to know, and he told me about himself as well.

Then one Monday morning, he didn't come to my locker before first hour. I saw him in the hallway before third hour, but he was oblivious to my presence. Yesterday I was his crush; Today, I'm nobody.

After sixth hour, I went up to his locker. He was just finishing up, and when he shut his locker, we met eye to eye. He stared at me for a second, then turned around, and walked away, not speaking a single word.

Ricky changed his mind. He wanted nothing to do with me. So I sit here, alone in my room, crying. I hope this burning sensation will go away, but I doubt it will leave any time soon. When you play with fire, you eventually get burnt, and the burnt doesn't heal so easily. Only time will heal this wound.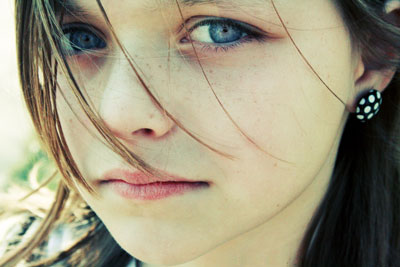 © Felicia R., Arlington Heights, IL