Wrong Love
September 10, 2021
Love is not what it seems to be. Love means a feeling of affection towards someone or something. For me, love is something that is always broken or something that never lasts. Yes, parent's love lasts forever, but even then they eventually leave. When it comes to friends or boyfriends, they always leave. Throughout my childhood, everyone said, "we will always love you and never leave you." That was never the case for me, I was always a disappointment and always will be... that will never change. This is the story of my life and how I have changed my idea of love.
It started this year when I was in history class with my friends. I finally met a true friend who understands me who is there for me and who won't leave me. The truth is, I opened up to her the first day I met her. I barely even knew her or what her name was. She didn't judge, she stayed and didn't pretend as she did care. Honestly to this day, she is still my friend and has put up with me no matter what.
Fast forward a couple of months to October 23, 2020, I started to date a guy who I thought wouldn't hurt me, but that's not true. I was happy and smiled all the time, basically all that sappy romance stuff you find in the books or movies. Spoiler that crap is not real and it is not real in real life either. They are going to leave you eventually whether you like it or not. Even though he said he cared he didn't he just tore me down because that's all he wanted. For example, I met his parents and he met mine, we hung out together at his house, he went to my grandma's house and met the other family members and played games. My 5-year-old cousin was right that we wouldn't last and that he would dump me. When I had the chance I should have dated someone else who would treat me right over him. Should have listened to all the people who said he was bad for me. For that, I'm sorry to every single one of them.
Now present-day February 12, 2021, I could care less about him and everyone who has hurt me. A wise teacher of mine said, " you are focusing on the people who left when you should be focusing on the people who are still here and who never left." She was right. I should focus on the ones who have never left me and not the ones that are gone. Overall, I feel like me for once in my life. I am not worrying, not sad, not stressed, I am happy for crying out loud, and I am not tied down by any man or anyone.
I want to say thank you to everyone who knows me. Thank you to Jailynn for being my rock and strength when I don't have it. To Andrew for who is my courage and my joy through the hard times. Gavin for being my laughter on my darkest days. To Jocelyn for being my bravery when I can't do something, you're always the first to help. Last but not least to Savanah for being my guidance through the ups and downs of this year. I don't think I would be where I am at today without these people in my life to help me.
Sitting here in my room at 12:22 pm my perspective of love has changed. Now to me, Love is the strength, courage, joy, laughter, bravery, and guidance that surrounds me in everyday life to make me the best person I can be. So goodbye bye to the haters, the fake people, and the people who have left. Here's to starting over to be a new me and to rewrite my history and no one is going to bring me down.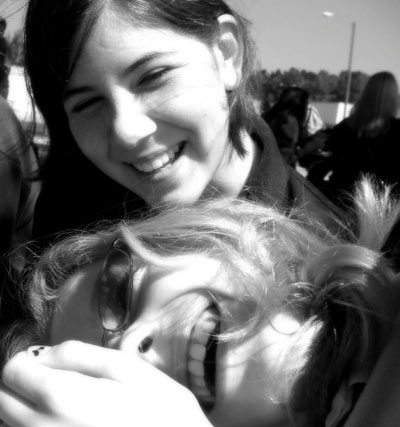 © Nita