I Play
March 4, 2019
The crippling fear of being "boring" sticks in my mind like an old piece of gum, black from the soles of muddy shoes, stuck to the sidewalk. I fear to become the adult who would rather walk than run or who passes up the opportunity to jump on the tramp because they might break a fragile bone.

Instead, I live in denial. I skip when others walk, I dance in the kitchen, and I jump on the tramp doing flips just to prove I can.

Being seventeen, I've watched as my four older siblings have grown to this stage. As young kids they used the word "yes" instead of "no," and more often than not their voices rung, "mark, get set, go!" starting the fun.

During the summer we biked to the famous fishing pond, my brother on the hunt for fish, my sister and I searching for hairy moss. Jumping in the boat for one, we would watch him fish, amazed by his skill of catching moss -totally unaware that he was getting more baffled with every cast. Sitting by the pond for hours on end, just to realize at the end of the summer that there were no fish, to begin with, but it was fine because time seemed to freeze and moments lasted lifetimes.

As each sibling got married we added another member to the family. We still laugh and joke, but adult bellows ring through the house instead of the childish giggles. Now the word "no" is said to nieces and nephews as if it were part of a broken record, and "white-washes" are worth capital punishment.

And the worst part of all is the fact that life happens. There is no stopping the inevitable; each person will grow and move on to greater things in life. Time keeps ticking, stealing moments and throwing them into the ocean of memory-- most likely never to surface again.

So I hold tight to these memories. My mind grips tightly and holds them as though they are the only lifeline above the chasm of certain death. I think of times past and make memories today that I will remember tomorrow. I know I will grow up, I will get taller and my hair will gray, but I will not grow to the age where I do not play.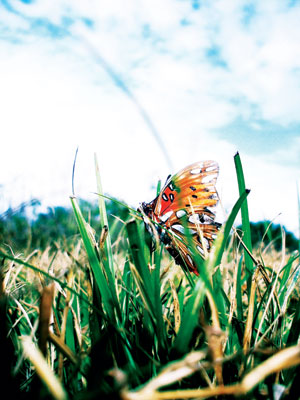 © Ashley B., North Port, FL