My Ex
October 6, 2016
My ex, Liam is the type of person that is a delight to be around. His smile takes all worries away with a single flash. And angel would have a hard time with not getting distracted by it.
His eyes give off the aura of understanding and kindness. You can tell him anything. I've poured out my soul and inner demons to him and he'd comfort me. He'd always have that twinkle in those soft blue eyes that said that everything would be alright.
Whenever I'd get upset, he'd wrap his warm body around me in the safest, most satisfying hug that you could ever feel, and he'd let me soak his shoulder with salty tears and sob for as long as I needed to. As he held me I could feel the solid muscles as they flexed ever so slightly under his skin. The embrace was made strong but gentle by them.
Whenever he talked I'd swoon at the sound of his Scottish accent. It always made my heart skip a beat or two whenever he laughed because that accent would heavily populate it. I never wanted him to shut up. You can imagine that the phone calls lasted deep into the night and straight through the morning hours.
Liam's hair is a soft brown, like the bark of a very old but healthy tree. It is silky and soft, just like his laugh. I remember resting my cheek on his head many times as he is a head shorter than I. I'd be there still if he hadn't told me that he had a headache. His hair is like a kitten's first real fur, like a feather on a fledgling, or like the skin of a baby.
His hair is soft, but his demeanor is more pleasant. He'd never gotten into a physical fight; would use his muscular arms to open doors for old ladies, women and me; would let others take his seat on public busses; and had a soft spot for kittens.

I remember walking down the sidewalk one day, holding his hand and looking at all of the daffodils and tulips that had just sprung up weeks before. We were going nowhere in particular and had no intention of finding a destination. We walked a good mile before he dropped my hand and paused, crouching down to pick something small up and cradle it in the cupped palm of his hand. I looked and it was a baby bird, not old enough to leave the nest, but not young enough that it was doomed.
Liam took that bird back to his house and fed it, gave it water, and cuddled it, naming the bird Oliver. Liam kept this thing alive and gained its trust for a few weeks and often carried him around the house on his shoulder. You should have seen the tears the day that he had to let Oliver go.
Liam is the type of person that you want to have a relationship with. He cares deeply for all life and became a vegan about four years ago. He also would do anything to help anyone as long as it was moral. He is a good guy and I am glad that I had the opportunity to spend one and a half years with him before the breakup.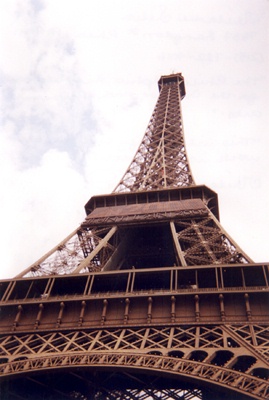 © Melanie S., Philadelphia, PA