Ciao, Italia!
December 9, 2013
I had my headphones on since I sat down in one of the plane's cushioned seats. I was listening to Linkin Park when the plane's engine roared to life.

"Nine Hours. Fantastic," I thought to myself. I wish I could say I had gotten at least some sleep, but that would be a complete lie. Between the roar of the plane's engine and the extremely talkative Italians sitting around me, my eyes never closed for more than a second. After five hours on the plane, I pulled up the shades on the window to see if I could catch a glimpse of Italy. I maneuvered my fingers under the shades and yanked it up, and a ray of sunlight smacked me in the face.

"Ugh!" I groaned loudly.

"Quiet down! I'm trying to sleep," my dad muttered angrily. I just crossed my arms, closed my eyes, and tried to relax.

Suddenly my dad shook my arm.

"We're here," he whispered. I opened the shades on the window and immediately averted my eyes because of the blinding light. When my vision came into focus, I gazed in awe at the stretch of land we were flying over. Even from the plane's altitude, the ocean seemed more blue here than in America. The closer we got to our destination, the more my anticipation boiled inside of me. By the time we touched down safely, I was prepared to spring from my seat. I exited the plane, thanking the flight attendants and pilot. As soon as I stepped off the plane, I felt beads of sweat forming on my face. The humidity on the air was overwhelming.

About half an hour later, my mom's cousin, Roberto, arrived at the terminal to drive us to our aunt's house. As we drove along the coast, jet lag began to crush me. I nodded off a dozen times before we arrived at the house. We greeted our aunt, Zia Franca, and our uncle, Zio Stefano, who told us how skinny we were right away and ushered us inside for an early dinner.

All I can say about their house: it smelled heavenly. Even as I walked in, I could catch a whiff of the aroma drifting from the kitchen. On the table sat plates piled high with pasta. I immediately noticed that the tomato sauce was redder than sauce in America. There were three little bowls of cheese on the table, since 'there's no such thing as too much cheese' in Italy. Once everyone settled down in their chairs, we began to chow down. I grabbed a bottle of Coke and filled my glass. When I was finished, Zia Franca took the Coke and poured herself a glass.

"That's strange," I thought. "Most people her age don't drink soda." I scarfed down my pasta in five minutes, and Zia Franca clapped and pinched my cheeks. I really don't understand why eating is such an accomplishment in this country.

After dinner, my parents led my brother, Roman, and me up the stairs and into our section of the house. The room was furnished with colorful, cushioned seats. Different rooms led off to the side. There were the kitchen, bathroom, and three bedrooms. The kitchen simply consisted of a small refrigerator, a stove, a table with wooden chairs, and a few cupboards for plates and cups. When I stepped in the bathroom, I gasped at the object that must be the shower. It was a tub and a hose.

"Oh, joy," I thought, picturing myself trying to use it. If my brother got his hands on it, he would flood the bathroom. The three bedrooms were extremely bright and colorful. One bed had neon green zebra print sheets, which contrasted significantly with the dull yellow walls. The second bedroom had two small cots, which I knew immediately I would get stuck with. The last bedroom had a king sized bed with a comforter. I knew my brother would get this bed for the entire trip. An hour later, I crawled into the uncomfortable cot and slept like I hadn't in a thousand years.

"C***-A-DOODLE-DO!" the rooster called from outside. It was five a.m., and that rooster almost made me tumble out of bed.

"Ugggghhhhhhh….." I groaned, shoving a pillow over my head to muffle the noise. "Stupid rooster." I tried to go back to sleep, but that wasn't going to happen any time soon. After lying in bed and moaning for a few minutes, I made my way groggily towards the kitchen. I poured myself a bowl of cereal and sat in the kitchen for a few hours. By 7:30, I was dressed and wide awake. Meanwhile, my family decided to crawl out of bed and eat breakfast. At eight o'clock, my mom and I were the only ones not in pajamas, so we were tasked with the job of getting bread from the delivery man. We made a list of all the bread we needed and my mom said I could get a pastry for myself, too. I had no idea what she meant until I saw a giant white van pull up in front of the house. We raced down the stairs and out the front door to see what the bread man had in his van. After we checked off everything on the list, I bought a plate-sized donut filled with Nutella for myself. I stumbled back towards the house; my arms weakening from the weight of the bread.

I walked in the kitchen, plopped the bread down on the table, and took the bag containing my donut. It was completely coated in sugar, and I gobbled it down in two minutes. I was licking Nutella off my lips when I heard my mom announce, "We're going to the beach."

I thought the water would be freezing at nine a.m., but it was perfect. The water was crystal clear. There wasn't a grain of sand on this beach, which was what I noticed first. Instead of sand, there were beige pebbles covering the surface. Under the water, however, the rocks were a million different hues. The rippling water over the multi-colored rocks gave the impression of a kaleidoscope. While at the beach, I met my cousin, Rosaria, and her buddies. The next thing I knew, I was on someone's shoulders, in the middle of a chicken fight. My opponent was Rosaria, and she wasn't difficult to beat. I pushed on her shoulders, and she fell backwards into the water. I jumped off my partner's shoulders and into the ocean.

An hour later, we departed from the beach so we could explore the city. I immediately searched for a Wal-Mart, but my mom was quick to enlighten me that clothing, food, and souvenirs were not sold in one building. There were only a handful of supermarkets, and all of the clothing stores mainly sold swimwear. Also, there were a few shops that sold souvenirs, which my mom explored first. After we bought soda, bacon, and a few different cheeses, we flagged down a bus to get back home. We decided to invited Zia Franca, Zio Stephano, and Roberto to lunch, to thank them for allowing our family to stay in their house.

Lunch was delicious. First, we ate pasta with sauce made of fresh tomatoes. Then, we gobbled down pork, fried zucchini, and a couple pounds of bread. For dessert, we ate mouth-watering chocolate cake and some figs from the garden. After lunch, Zio Stefano asked me to teach him English.

"Buon giorno means good morning," I explained slowly.

"Buon giorno," he said, his mouth spread wide in a mischievous grin.

"Good morning," I repeated patiently.

"Buon giorno," he insisted. This repeated several more times until he said something I didn't understand, chuckled, and walked away. Then Zia Franca, Zio Stefano, and Roberto left to prepare for dinner. We were planning to invite all of our relatives over to have pizza.

At ten o'clock, everyone arrived and were noisily milling around Zia Franca's kitchen and dining room. The family tree is very complicated and huge, so there wasn't much room to do anything but sit or stand. Michele, my three-year-old maniac of a cousin, ran over my foot with his little plastic car, which broke in half later in the night. Maria Chiara, Michele's older sister, was telling me about how she's learning English in school. My other cousins, Francesca and Stefano, were bickering like any siblings would. Finally, it was time to eat. Everyone got their own small pizza, and Fanta and Coke was being passed around the table. After we polished off the last of the pizza, Maria Chiara and I sat on the patio. I tried to teach her Patty Cake, while Francesca asked me how certain words were said.

"You to speak English?" she inquired.

"Do you speak English?" I corrected. We both cracked up. I looked around at my family talking and laughing, and I knew I would miss Italy once I left.
I remembered the sun shining down on us at the beach, and the cool waves splashing against the sand. I remembered the colored rocks that sparkled like jewels. I remembered the olive, lemon, and orange trees lining almost every street, adding a fresh scent to the air. I knew I wouldn't see them again for a few years, so I wanted to make as many memories as I can. Italy would be reappearing in my dreams, and the entire experience would seem like it wasn't real.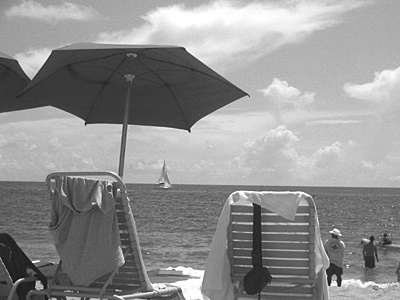 © Emily O., Boynton Beach, FL