My highway
October 3, 2013
"She's gone," she whispered in a hardly audible voice through the phone.
She sounded like she had been crying for a while, like she was on the verge of crying again. I should've started crying afterwards too, or at least felt sorry for my mother waiting hopelessly at the airport for the next flight to Nairobi to make it on time for the funeral. She was dead, my grandmother had just died. I should've felt sadness, shock, guilt, or even anger, but I felt nothing. Just a deep hole filled with darkness, expanding with each heartbeat. She was really gone.

I slowly set the phone down, letting the hole fill me up. Our house now looking duller and grayer than before, as if had been drained of its life too. The only noise came from the TV which my two brothers were stuck to. I was envious and partially angry by their ignorance as they watched their favorite shows, oblivious to their surroundings. They were unaware and blinded by their bubble of innocence. They never spent the beginning years of their lives in the company of a 3rd parental protector. They never knew how it felt to hear her soft, rhythmic breathing as she listened to the stories of my day. They never knew that incredible person so they wouldn't know what it would mean to lose her. Their ignorance was bliss.

I dropped on the couch as the despair rammed into me, catching me off balance. Suddenly overwhelmed with deep sorrow and regret, I looked at myself in the center, glassed part of my watch as if time would solve my problems. What I saw inside the watch was a little distorted, but did show the obvious gloomy expressions and features of my face. Hazy yet clear and ever-present, like the memories of my now deceased grandmother. Closing my eyes before the tears came I started to rewind into the past, a place I'd rather be.

Preparing me for life up ahead, my first five years were filled with fun, curiosity and adventure in the city of Nairobi. As our guardian and protector, my grandmother was the indestructible matriarch of our family. With my two aunts, their three children, my grandfather, my mother and me, my grandmother had her hands full. Through thick and thin, she held her responsibilities firmly but with a kind smile on her face that I could never forget. My dad had left Kenya to set up a better life for our family in the U.S. when I was 2 days old. Although I didn't remember him, I was frequently saddened by his absence. My grandmother quickly stepped into role, protecting and guiding me through the primary years of my life.

The next couple years saw sudden changes and continuous obstacles. Although I came to America with my mother and reunited with my father after many years, I felt a little lonesome because of the distance between me and my other family. I had that hole in my heart of longing, until I discovered that the people who were the farthest from me were also the closest. My grandmother was over 8,000 miles away from me but never in a day of my life did I not feel her presence with me. She was the essential water I drank and the comfortable bed I slept in but most importantly she was my only set of headlights when I traveled on the potholed road. During our daily afterschool calls, I would share my day with her and talk about the barriers and awkwardness I faced at my new school. I knew no English when I entered Kindergarten and the American school culture was foreign to me. It was my grandmother's support that saw me through this problematic early part of my life. Although my grandmother never traveled a similar path, it comforted to know me that I had a support system paving paths for me to maneuver on. My grandmother never gave up on me and she never let me give up on myself, never let me yield in life. With the help of my grandmother, the jagged road was smooth and leveling off to become more like an open highway than a winding road. Maybe that's all I needed then, for someone to help drive me to the place I aspired to go but just feared to go alone.
I slowly opened my eyes. A few tears came through but I let them pass. I knew they weren't the gloomy tears previously formed from grief. Instead they were happy tears, because I knew that although she had passed away, she had never really left me. Life would have to keep proceeding but she would never miss any of it, because she lived inside of us all, she lived inside of me. My job was to keep on living the life she sacrificed so much for me to have. For me to live not only for myself, but also for her. To keep her legend and her life going.
She died at age 65, but lived a life many would yearn to witness. Through many ups and downs she held her firm and strong convictions, fixing the jagged edges and bumpy roads along the way. She lived for me to have a clear and boundless route in life, never asking for anything more than for me to never yield. As my life unfolds like a highway, she will ride beside me and be the foundation on which I travel.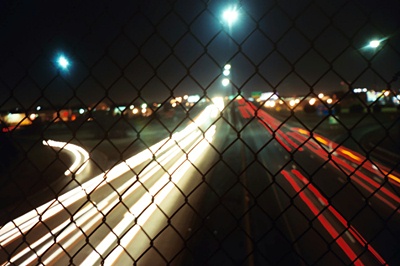 © Jordan L., Wichita, KS