Fires of Her Eyes
October 13, 2011
It was so early in the morning as I got out of my tent, you could still see an outline of darkness beginning to switch places with the sun on the uneven horizon. The complicated zipper of the wind blown tent got caught in the fabric and I attempted to free it with frost bitten hands. After a few minutes of failure, I gave up and let a cool breeze get in it to help circulate the air in there. A pile of yellow and orange skeletons of leaves crunched underneath my childish rubber boots as I crept ominously towards the center of warmth at the top of this mountain. The fire was blazing even after around nine hours of feeding off of some useless bark. When I got a few feet closer, a bubble of warmth in my chest began to expand. I hugged my shoulders like I might in the comfort of a steamy shower.

My feet inched closer, and I began to recognize the figure behind the fire, their legs dangling like shoe laces off the side of the cliff. It was my mom, alone and drinking a hot cup of coffee. Everyone was still asleep, and she was embracing the time to herself, just staring off with the glint of thought in her eyes. Normally I would have reacted by walking up to her and popping a squat to admire the scenery. But today, there was something holding me back. Perhaps it was the look that she had that surprised me.

Her hair was a mass of sunlit blond that trailed behind her. Her tiny hands, covered in wool gloves, were cupped around her mug smugly while she blew on the sewer water – like substance. Her lips formed a perfect "o" and the corners of her mouth were caved in, revealing dimples that I had never before noticed. A flicker of light burst out of the fire and made a popping noise that made both of us jump. An ember from the coals drifted slowly over to her and landed daintily on her shoulder. It might have burned, but she remained completely motionless, her face resembling a cold but not cruel marble – like porcelain. But she was no fragile. She was stunning.

In that moment of time, the woman I had always known as mom was no longer there. She could have been a starlet, a model for a successful outdoor magazine in that North Face blue down jacket. With one look, she could have you in a trance that you couldn't get out of until you remembered that she was also the woman that made your lunch every morning, carefully cutting off the crusts and making two exact triangles. It was hard for me to comprehend that she could be two faces, one frazzled about the traffic to parent teacher conferences, and the other one shy and young like a child alone on a stage.

But she was both women, just one of them cleverly tucked away under a stack of drawings of caterpillars and miniature feet. I just had to see the way she looked off at the glossy lake below, the way she tucked her legs into her arms to really understand. I had to understand that no matter how long she had been my mother, she was still herself. Her occupation as a mother was almost full time, but she still had some secretive time to take off the mask and suit and turn into someone that reminded me of a girl my age.

One day, I too would want to play a part in the grand scheme of things. Maybe not a mother or a wife like the path my mom chose, but something that still requires a lot of my time, energy, and most of all, compassion. Sure, at the end of the day sometimes I might be exhausted or feel like I'm wasting my time, but then I would always remember the way my mother looked that crisp morning. She probably didn't even feel that different without the mask on, but from the outside she could probably tell that she wasn't the mother at the moment. She was the child, alone and hoping for a bigger world to swim in. She was remembering who she used to be, and who she still was when she didn't have to play a part.

That same bubble of warmth in my chest expanded to the edges of my body and further, probably making me glow like a sign in Las Vegas trapped in a world of opaque blues and grays. It was not from the fire, but from the inside, the vibration in my heart cavity overwhelming me. My mom was courageous to not fear being human. She had always tried too hard to give us the perfect mother, the perfect home. Now, she could be herself and not have to worry about life getting out of control.

As I thought this, I slowly backed up to my tent, letting her have this moment before the others awoke from their sandy – eyed slumber. They would probably yawn loudly and stomp out to the campfire to start up breakfast. My mom would return to hiding in her mask and asking them what they wanted to eat and how their sleep was. They would answer her tiredly, and while she helped boil the water and start a day all over again, she would think to herself If only they could see me. I saw you, mom, I saw you. I saw you and I'll take away from this. I'll never forget who I am or where I came from. I'll be true to myself just like you are. They might never understand, but I did. And understanding was just enough for me.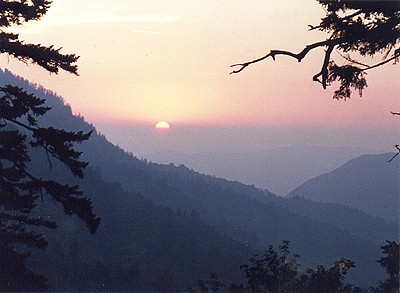 © Nicole P., Gouvernor, NY