Learning Magic
July 22, 2011
"Catherine, Andrew and I are going to see Harry Potter and the Sorcerer's Stone. Do you want to come?"

"No thanks, Mom," I said. At seven years old, I was just beginning to develop my sense of cynicism, and for some reason, my cynicism said that this Harry Potter movie everyone was going on about was stupid.

My mother was of course quite perplexed. "Are you sure, Catherine?" she asked, while frowning over my brother's shoelaces.

"I'm sure," I said. I picked up a stuffed cat, a present from Christmas, and began to toss it up and down. It purred as I did so.

A little boy just exiting toddlerhood ambled out of the kitchen. "Can I go, Mommy?" my younger brother asked, looking up at her with dark brown puppy dog eyes.

Mom looked up from my older brother's shoes, and immediately saw the trouble I was causing. "Catherine, if you're going to throw things around, do it in the basement or outside! You almost hit the chandelier!" Having remedied that situation, Mom turned to my little brother, John. "I don't think so, John," she said, gently ruffling his wavy blond hair. "The movie is supposed to have some really scary parts."

I waited for John to cry and screech his way into seeing the movie. Instead, he just said "Okay!" and bounded off to the basement to watch more of his beloved Thomas the Tank Engine.

This new information made me reconsider my once steadfast decision, starting to toss the cat up and down again. I had never seen anything remotely scary in my short life. Unless you counted the Wicked Witch from The Wizard of Oz, and I didn't, because I was only really afraid of her high-pitched cackle. And, I was not going to relinquish any bragging rights for the sake of trying to seem more intelligent and older than I actually.

"Stop throwing that cat around, or I'll take it away!"

I caught and held the cat. "Actually, I think I would like to see Harry Potter."

"Well, get your shoes and socks on. We don't want to be late, and Andrew's already waiting in the car."

There was a muffled "mew" as I dropped the cat on our hardwood floor and scampered over to the steps, where the said shoes and socks had been laid out. I yanked on my pink socks and Velcro'd my light up sneakers as fast as I could. Throwing on an obnoxiously puffy coat, I went through the garage door into the golden minivan, where Andrew was waiting, reading a book about dinosaurs. I clambered into the back, where my car seat was. He was so absorbed in the Cretaceous period; he didn't even notice I was in the car.

A few moments later, Mom was in the driver's seat and we were on the way to the AMC. It was already dark, but Andrew was still reading with the aid of an overhead light. Mom listened and occasionally sang along to an Ella Fitzgerald CD. I looked out the window, watching the cars that looked more like animals, with headlights glowing like eyes in the night.

We didn't speak, until we got the intersection right by theatre. "We're going to be really late," Mom said, turning down the volume on the CD player. " We were already late to begin with, but this traffic is insane."

"Yeah," I agreed, still staring out the window. It looked like a whole pack of animals was on the hunt.

Andrew kept on reading.

It only took a few extra minutes to get to the movies, but by the time we had presented our tickets and arrived at the proper auditorium, an old man with a long white beard was already calling the light from the streetlamps into a silver device in his hand. It was a full house. We couldn't find three seats together.

"You sit here," my mother whispered, indicating an aisle seat in one of the middle rows, "and Andrew and I will sit up front, where we were before. You'll meet us in the lobby after the movie, okay?"

"But why me? Andrew's older."

I could just barely make out my mother's pained expression in the dimmed light. "Just because," she sighed, holding my brother's hand as they walked forward, silhouetted by the projector.

I easily relented to this engaging movie. I felt pity for Harry's orphaned state, humor as Harry's wand ended up a troll's nose, and intense dislike for the cruel and unfair Professor Snape. But most of all, the movie offered a sense of warmth on this snowy December night, because the good guy won, and those who were thought to be evil turned out to not be so bad after all. I couldn't wait for my Hogwarts letter next year.

I wandered into the lobby with a happy if dazed expression on my face. Mom and Andrew professed to like the film as well, though I can't believe they enjoyed it as much as I did.

When I got home, I remembered a neglected Christmas present, still sitting under the stockings at the fireplace. I picked it up, and brought it over to the living room couch to perform a more thorough examination. It was Harry Potter and the Sorcerer's Stone- the book. I admired the shiny golden lettering on the front, and the artwork begged me to look in between the covers for once. I was never much for reading, but maybe Harry Potter would be worth it.

"You liked the movie, huh?"

I jumped. My dad had managed to sneak up on me, despite his heavy footfalls and the creaky hardwood floor. "If you want," he said, "I could read some of that for you and Andrew tonight."

I nodded eagerly, and with Dad guiding me along, I was on my way to becoming both a reader and a writer.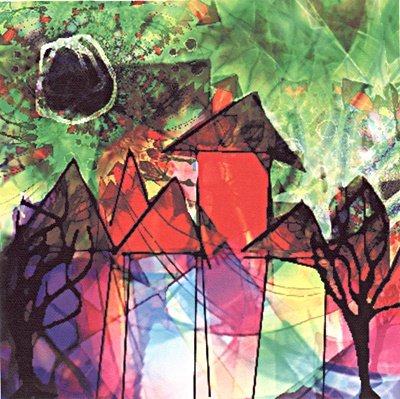 © Tanya T., Galesburg, IL