Just Shoes?
October 21, 2010
The short plane ride over. Every month it happens.
I jet set over to the land of the coffee drinkers,and horn honkers. Making my way to the loading zone, I spot my fathers car. The silver Honda Civic, brand new, and shiny in complexion. He hops out, as he occasionally does, and opens his trunk.
He pulls out a bright pink shoe box. Pops off the lid, and to my surprise a pair of sparkly red shoes peeks out from underneath. "Here, you should try these on." He says quietly. "Aright" I replied. Climbing into the passenger seat of the car I started to slip the red "Dorothy" shoe on. "If those don't fit we have a bunch more at home," He said focusing on the road. "Ok" I said, slightly confused. "We have a lot to go through this week, and I just want you to listen for a moment," "what is it dad?" I said now sure that I was confused. "Kim's dead." He muttered the breath barely slipping out of his lips. "What?" I replied. Shocked by what my father had just said. I thought that he just said that my step-sister had died. From what I remembered she had no medical problems, no battle with cancer, and no diabetes. "She died earlier this week; The Mortician said it was an undiagnosed thyroid problem, she didn't have medical insurance." He replied solemnly. "Oh." I replied, not sure of what to think.
The rest of the ride home, was in silence.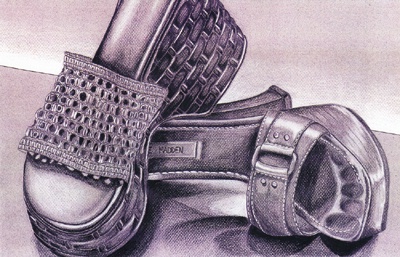 © Edjan C., Jamaica, NY