When the Truth Came Out
December 9, 2009
I can't remember the date, the time, or what the weather was like. All I remember is that once the words left her lips, I questioned everything.
When I was eight, I woke up to the sound of screaming. I thought, what a normal day. My mom and sister were having another World War. Though, something was different. Kirsten, my sister, kept threatening my mother. She was yelling, "I'll tell her! I hate you!" My mom got nervous fast and told me to find the car keys.
I settled in the backseat with Kirsten. The three of us drove to the nearest gas station. Tension was growing rapidly between them, and that's when it happened. My mom whipped around and grabbed Kirsten's thick brown hair and began to screech, "Tell her! Tell her!" My mother was shaking and thrashing her head. That's when Kirsten choked out, "Did you know Dad's not your real dad?" My mother covered her face, my sister sobbed, and I questioned my entire life.
No one spoke as we drove home, but as soon as the three of us made it through the front door; my mother took me into her room and shut the door. She sat me on her lap, took a long deep breath, and began the story.
Before I was born, her and my dad, Felix, separated and my mother began living with another man, Joe. My mother told me she was madly in love with Joe and they were engaged to be married. But, reality set in. My mom went back with Felix, because he wanted her back, and she thought it would be best for their kids. Then nine months later, during an episode of "I Love Lucy", a blue eyed baby girl was born, me. Finally, my mother told me that Kirsten was right, and that the man Joe was my biological father.
Even though I found out that my sister and my two brothers are half siblings, things never changed. I still love them. And even though Felix isn't my father, it's alright, because he is still my dad.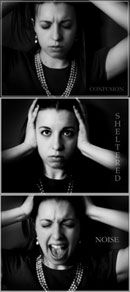 © Michelle B., Blairsville, GA