the influence
November 17, 2009
Back in the happy days, or at least my happy days, I was surrounded by the love and warmth given by three of the most important people in my life; Keegan, Logan, and Paula. The places we went and the adventures we created filled my life with constant necessity. Nothing was too big for the four of us to handle.

Keegan was my age, he was like another brother and a boyfriend all wrapped up in one, Logan was two years older and Paula was our mom. Well technically their mom, but she felt as much mine as she did to them. In fact, she almost did become my mother by law, because she almost married my dad. I remember that day when Keegan came to my dads' house, on Harrington way, in Hopkinton MA, and told me the news; I was so ecstatic I started to cry.

Within the next month they were completely moved in; this was the summer I was going into fifth grade. I loved being at that small-working-progress-house; it was as if the beach front landed in our front yard. We had the classic beachfront walkway with tall grass on either side, leading to our front porch. Sailing related accessories lined the walls in every room of the house separating the lightly colored walls. One picture stands most vivid in my mind. It is hand painted right onto the wall, above the stove, by the very talented, Paula, it was of the sailboat we used to own called, Aquila, with both masses up sailing sweetly on the ocean water there were two little dolphins poking out of the water and a rope that surrounded the picture leaving a trail all around the kitchen. In our slightly small back yard there were two trees that were connected by a clothes line that we always ran into while running around in our made up worlds.

So many memories dance happily in my mind with them and that house. For instance, one night, we stayed up 'til the early morning hours watching a re-run of our favorite movie, spirited away, and all falling asleep on top of each other by the third time we watched it, or my brother and Logan a bottle of mosquito replant threw a window.

The littlest things we did as a family, then, made me feel invincible, but that soon shattered by the fall when my dad suddenly ended it with her and they moved back to their house in Nashua, NH. I never fully got that closure I really wanted or needed because I no longer feel invincible or warmth that they gave to me. With a box full of memories and a broken heart I wonder if ever feel that way again.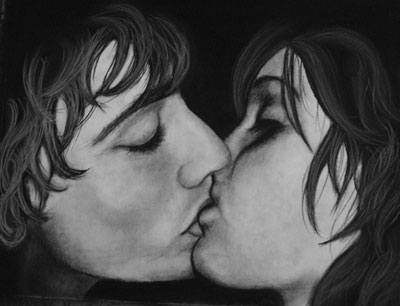 © Anna Y., St. Robert, MO