You'd Like Him
September 17, 2009
You'd like that boy. The way his light blue eyes shine. Like an ocean tide, they glisten. You'd like his hair; long and dark, sometimes covering those eyes. You'd like the way he pushes that hair back, swishes his head to the side. I know you'd like the way he is, because I like it too.

She remembers the day her heart was broken, but she forced herself to get through. With tears on her face she walked down the halls; a hollow feeling inside. An empty silence that not only filled her heart but filled her entire body. She approached her friends, and when he saw her he stopped what he was saying. The bell rang, and students fled the halls, rushing to get to their classes. But he stood there, holding her together - keeping her from falling apart.
"Everything's going to be okay," he said, reassuringly.
She looked away, not wanting him to see her cry. For seeing her cry would upset him too, and that was the last thing she wanted.
"Hey," he said, touching her shoulder, then moving his hand up to her chin. "Everything's going to be okay," he repeated.
He lifted her head oh so gracefully, revealing her tear-soaked cheeks. She pushed away, looking downward, hoping he hadn't noticed.
But he had.
Because that was the first time someone actually told her the truth.
"It's not okay, I know," he began, "and it seems like it won't be either.
She looked up from the spot on the floor she'd been so carefully examining.
"But no matter how much you tell yourself you're over it, you won't be."
A warm tear rolled down her rosy cheek, resembling the same familiar glisten that hailed from his eyes.
"Don't cry hon, I'm not finished," he said with a smile, hoping it would be contagious.
When he realized it wasn't catching on he continued.
"You won't get over it until you really believe you are. Trust me I've been through this too. Don't lie to yourself, and don't force yourself to be happy. Accept what happened and accept that you can be on your own. You're a strong girl, and that girl doesn't let anything stand in her way."
She wiped her eyes with her sleeves, sniffed, and tried to smile. She tried to think of words to say, but nothing came to mind. They just stood there for what seemed like forever in the odd silence of the hallway.
"I'm so lucky you're my best friend," was all she said.
And she smiled at him, the first real smile she'd let slip through her lips.
"I'm even luckier," was all he said in return.

So you'd like that boy. The way he comforts, and makes everything seem alright. You'd like the way that he talks; convinces you you're fine and tells you to believe it too. But mostly you'd like his light blue eyes. Like an ocean tide, they glisten. I know you'd like the way he is, because I like it too.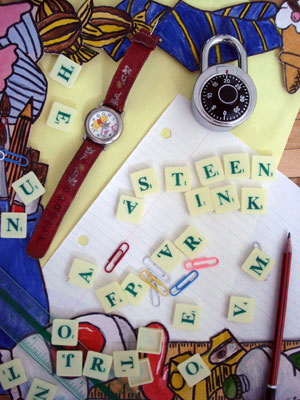 © Ama L., Ottawa, ON, Canada