Gone Before You Got Here
September 10, 2009
I can't even find one word.

My head spins and crashes, thoughts colliding and exploding all at once and I think I'm going crazy.

Your words! Oh! You might as well throw a bowling ball at my stomach, it's a punch in the gut that sends signals firing up wires into my heart. Pinching, like a thin layer of flesh snagging the rings of your binder.

You've done so much wrong, and I still can't shake you. You must never know this.

It's an invisible power that warps my mind. I try focusing on reading the pages of French, try reflecting shapes on graph paper, try thinking of anything but you. And you're still there, whispering in my ear, fingers tracing the lines in my palm, you breath hot like the summer sun on my cheek. Summer was OUR season.

You broke my heart.

I never thought I'd understand the meaning of those words. The snapping feeling is undoubtably there. The splitting sound of muscle being torn, straight down the centre.

You know, just because I told you no didn't mean I never liked you. It didn't mean that I wouldn't get hurt if you left, like you did. It didn't mean that I wouldn't be shattered with jealousy, seeing your fingers interlocking hers, a perfect puzzle. They used to be my fingers and yours. We were the perfect puzzle.

They used to be. But no, heaven forbid you dwell on the past. I read it all wrong. You were gone before you even got here. Your little games, they aren't fun. They're torturous, like tier one soccer practice after a five kilometre run.

This pain is something I hope never to feel again.

So why, why, WHY? I ask myself...

Do I keep coming back?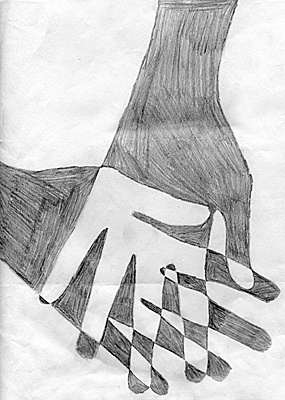 © Warlito B., Tamuning, GU