Change
November 6, 2021
For 11 years, I had been an only child. The attention was nice but it meant I was more likely to get in trouble. I remember the day my parents told me I was going to have a sibling. You're going to have a sibling soon. The tone of voice keeps echoing in my head to this day, like I'm constantly stuck in a cave of darkness and confusion. They said it so casually. Like it was normal. Like my life wasn't going to change from that point on. The ironic thing is that I responded in the same way. Really? Okay. Truly, I was thinking of all the things that would change and what sacrifices I would have to make. It was the one and only night that I ate my dinner without blabbering every little thing on my mind.
***
School's over. I get home, alone, after climbing up the steep hill from 2nd avenue to 3rd. I'm tired. It's unusually hot for the end of April. Throwing my bag across the floor, I scurry to the bathroom in the hallway to wash away the germs on my hands. I quickly finish up and change into my comfortable sweatpants. Once I'm done shuffling around, all I hear is dead silence. Nobody's home. I grab a snack in the kitchen. Sour cream and onion chips, my favorite. I pop the bag open and my nose wrinkles as the aroma wafts towards my face. I have homework to do, but my body plops down on the couch while I plug my headphones into my phone and pull up Youtube. I don't move for about half an hour, watching funny videos of stupid people doing stupid stuff. My phone is covered in greasy fingerprints, but I don't make an effort to clean it.
Once I finally get up, it's straight to another form of technology. On my way to the desktop in my room, I stop just before I can step in. The headphones on my ears fall out. I get super dizzy. The room is spinning. At least I think it is. Thoughts are running across my mind. That's a crib. That's my storage box but it's in a different spot. So is my chair! Then it hits me- My sister is coming home for the first time as a newborn!
My mouth flies open and I start panicking. I scramble to unlock my phone and call my parents. "Where are you? Are you close? I want to see her!" I stammer.
"Calm down, we're coming. It may take a while though," my mom says laughing. "We have to get a car seat before we can take her home. That's what the nurses are saying."
I groan. "Okay, I'll see you." I hang up the call and slump onto the desktop. I open a new tab and go to Club Penguin, an unforgettable game of my childhood. Usually when I play the game, it's fun. This time feels… lifeless. All I can think about is my sister.
After a grueling hour, I hear a key slide into the door, almost like a ghost banging on the door. They're here! I am about to jump up and run to the living room, but I find myself still sitting. This is it. No more only child, no more undivided attention, no more peaceful nights of sleep... Shaking my head, I force myself out of the chair to wash my hands again, still greasy from the chips. The water hits me cold, similar to autumn chills. As I wash them, I notice how much my hands are trembling. I'm nervous. Extremely nervous.
"We're home!" my mom yells.
"Coming!" I say back. As I walk into the living room, at first, I see a small little package. When I squint, I see a small baby, almost identical to an American Girl doll. She's sleeping. My parents are settling down on the couch, looking extremely exhausted. As for me, I'm just standing there, frozen in time. With a quick shiver, I snap out of it and sit next to her. Her skin looks so smooth, her hazelnut hair so soft, and face so delicate. Almost like a painting. She turns her head to me, opening her eyes slightly. There's a little sparkle in her eyes. Then I see a little curve at the tip of her mouth. She's smiling at me. I smile back. But then, suddenly, I feel a chill go down my back. I shudder, goosebumps along my arm. The thought of how I wasted my time right after I came home strikes me. Why am I so irresponsible? Why do I waste my time on things that don't even matter? It hits me that I often prioritize the wrong things. I look back at my sister. I'm going to have to change for her. For Avani.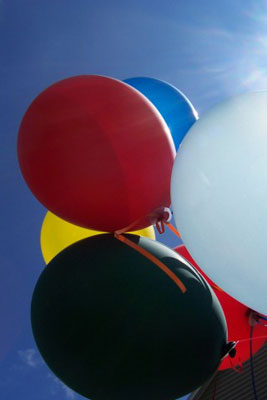 © Simone P., Summerville, SC