Interview with a Trusted Person
March 29, 2012
My subject is Ms.Rogowski. Ms.Rogowski is my Literature teacher. I wanted to interview someone I look up to and trust sincerely. I don't know much about her except for the fact that she is married. She also has 2 daughters, an 11 year old and an 8 old. The 11 year old is in 6th grade and the 8 year old is in 3rd grade.


I also know that her husband is an attorney in other words, he's a lawyer. I would interview him as well, only I know he's a very busy man as an attorney. Well that and I don't know which attorney's office he works at. So I am going to interview her with pre-selected questions. When I interview her, I am going to type up the answers and add them to my article. I have interviewed her and here are the questions as well as answers.
Me: Where you born in Stephens County?

Ms.Rogowski: No

Me: Where were you born? Is that where you grew up?

Ms.Rogowski: Abingdon, Virginia. No, I grew up in Atlanta, Georgia.

Me: How long have you lived in Stephens County?

Ms.Rogowski: 14 years

Me: What's it like to be married with two kids?

Ms.Rogowski: Tiring, but fun

Me: How long have you been a teacher?

Ms.Rogowski: 5 years

Me: Did you have a job before teaching?

Ms.Rogowski: Yes, I was a Social Worker

Me: Do you recommend teaching to everyone?

Ms.Rogowski: No

Me: Why did you switch jobs?

Ms.Rogowski: I was always dealing with teenagers already in a crisis at the shelter I worked at. I thought as a teacher, I could help them before they got in a crisis.

Me: Do you enjoy teaching?

Ms.Rogowski: Yes

Me: Before you taught, did you want to be a social worker and why?

Ms.Rogowski: Yes, in college I knew I wanted to do something where I could help people and eventually I just got burned out from helping the teens in crises.

Me: Did you always want to teach and why?

Ms.Rogowski: No, the decision was made later in life and I'm glad I made it.

Me: If you weren't a social worker or a teacher, what would you have done and why?

Ms.Rogowski: Animal Rescue because I love animals and I guess that's what drove me to helping innocent children.


Here is what I learned about my literature teacher. She is very kind-hearted. She is also a good role- model to have. I decided if I didn't major in teaching, then I would major in the Social field before this interview. I decided furthermore, that I did NOT want to be a teacher, because like she, I am very kind-hearted and I love to help people. So with her answers I have decided to major in the Social field.


She was born in a small town that has grown in size since. She adores animals and even though teaching becomes a pain at times; she won't give up because she loves her job and sees the kids in her classes as her own. She is a wonderful person to know and such an amazing teacher. She loves being a mother/wife and wouldn't trade her life in a second. In conclusion, she was a great interviewee and I learned a lot about her.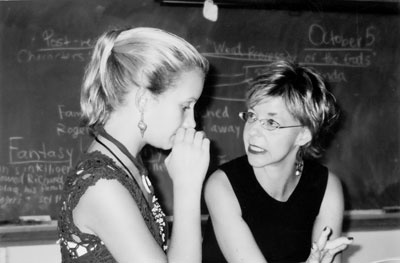 © Olivia L., Pompton Plains, NH