Pride Will Never Die
November 30, 2011
A young mother looks into the face of her eighteen year old son. His eyes are cold and hard; not yet ready, but prepared for departure. His expression is blank, but fear consumes his every thought. Tears start to swell in his mothers eyes. She grabs hold of her son in a motherly embrace, never wanting to let go. After wiping her tears away, she releases her son and says, "Make me proud." It won't matter if he becomes a war hero or if he never even sees the battlefield. What matters is the act that he knows the risks and sacrifices that come with dedicating his life to the military and he still chooses to serve; that is pride.

Why would someone ever want to go to war for fun? Nobody would. So why do some of us choose to? Without an army we would be defenseless and vulnerable to outside attackers. Other countries aren't as privileged as we are because they don't have the same freedom as we do in America. Our nation is full of happiness and freedom, so if our military wasn't here to protect us, we would be at stake for invasions. Our strong force will not let injustice happen that easily.

About five years ago I visited the Pearl Harbor Memorial in Oahu, Hawaii. I was amazed by the whole experience. What once had been a great battleship had now sunk to the bottom of the ocean and become an underwater graveyard. It was incredible to imagine hundreds of bodies still trapped inside the massive war machine, all in honor to defend our nation. I peered over the sunken ship and noticed oil was seeping up to the surface of the deep blue. Even after many years had passed after the horrendous event, oil was still leaking from the ship. I will never forget how I saw everyone of those soldiers missing from the world, but living on as brave war heroes.

With a world as beautiful as the one we live on today, you would think there would be no need for war, but the would has changed over time. We live in days of constant debates, a time where wars are common and the greed of others consumes our nations. Conflicts aren't near as bad now as they were around in World War I and II, but nothing is at peace quite yet. However, there is hope within our military. They stand tall and proud, ready to protect out nation and fight for the freedom of others. Within every young soldiers' heart, there is pride. There will forever be pride.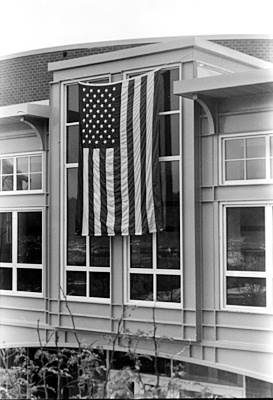 © Chuck K., Marblehead, MA