My Favorite Teacher
MAG
May 19, 2011
Choosing a favorite teacher is a difficult task, because there are many types of teachers, all of them important. Teachers may be the second most important people in our lives, right after our parents. Teachers have the power to build a child up to the person they have the potential to be, or to completely annihilate his hopes and dreams.

Moving to Florida was a milestone for me. I left Puerto Rico, my country and home, because our family had all moved here. I was friendless, and at times I felt hopeless. My mother enrolled me in a private Christian school, worried that I would be lost and overwhelmed by the turmoil of the public school system. It was there that I crossed paths with one of the most important people I have ever known.

The first time I met Mr. Casey was when he gave me a tour of the school the summer before my fourth grade year. He was tall, thin, and had a very intelligent gaze. He seemed truly interested in what I had to say. He had spoken to my mother, assuring her that I would do well in the new environment. However, when school began, so did my problems. My teacher was a rigid, seemingly emotionless woman. She couldn't understand me because of my thick Spanish accent, and I couldn't understand her accent. Having absolutely no patience with me, she sent me to the principal's office and called my mother, claiming I had an "attitude problem." My mother arrived at the school crying, regretting she ever brought me to this country. Yet Mr. Casey calmly offered support, assuring her that I would do well, telling her that God has a plan for everyone. My mother left his office consoled and filled with a newfound hope that I would progress through the fourth grade successfully.

It was also that year that I learned Mr. Casey was fighting cancer. It was a rare form, not easily treatable. His doctors were out of state, so he would often have to leave his beloved job. The cancer was a roller coaster violently jerking him through highs and lows. While most people would have denounced God, faith, and prayer by that point, Mr. Casey was the opposite. At the beginning of chapel every Wednesday, he would say, "God is good, all the time. All the time, God is good." He never said anything negative about his situation. It was admirable that he could go through so much, yet still walk with his head held high and his faith and positive outlook intact.

However, by the time I entered eighth grade, the cancer had become more aggressive. Coincidentally, this was the year that I had Mr. Casey for American History. My class had been warned that he might be gone a lot and that we would have to be patient with him. We were told he would be feeling bad from the chemo and constant blood work. It never got to that point, because halfway through the year, Mr. Casey had to stop teaching completely. The cancer was eating him alive.

The short time spent I spent with Mr. Casey was truly incredible. I have never learned so much in a class. He never even looked at the textbook; he knew all the lessons by heart. He was so dedicated to teaching that he would drag himself out of his house, put on a brave front, and come to school, just to teach us. Sadly, when things got unbearable, he had to stop. We were the last class to have Mr. Casey as an American History teacher.

Miraculously, the story doesn't end here; Mr. Casey didn't die. The doctors managed to get the cancer under control, and he was able to live a normal life again. However, he retired to spend more time doing many other things he enjoys. What kept Mr. Casey alive was a combination of his mighty faith, nonstop prayer, his stubborn will to live, and the grace of God.

Without a doubt, he is the best teacher I have ever had or will ever have. His lessons went beyond the classroom. Whenever I begin to feel bad for myself or begin to lose faith, I think of Mr. Casey. I think of how much worse I could have it, and I think about his strength. It is my hope and prayer that one day I will be even half the person he continues to be.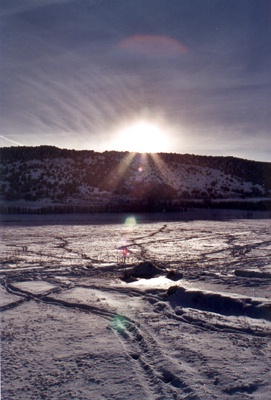 © Brandon T., Manila, UT