Heroes
July 3, 2010
What makes a hero? Heroes don't have to wear underwear over tights, or have superpowers. Heroes are people that make others lives easier, help others, or just help someone to see that their life has meaning. There are many heroes in this world, but very few are recognized. Here are four very special heroes.

Jackie Robinson was born in Cairo, Georgia. When he was still very young he moved to California, and after college, in 1946, he was asked to play for the Brooklyn Dodgers. What is so special about that?? He became the first African American to play major league baseball. Even when he was hurt, (physically and emotionally), he stood strong, and didn't let them get to him. Jackie Robinson was a lot like Christopher Reeve, because he was famous, and he used his fame to tell people what he believed in.

Miep Gies is another one of those heroes. She was born, grew up in, and stayed in Amsterdam, in the Netherlands. When the Nazis took control, they sent all the jews to concentration camps. Miep's boss and his family were jews. Her boss had planned for this, and had built secret rooms in the attic of his office. He asked Miep if she would care for him and his family, and Miep agreed. She fed and cared for them, and when one of the daughters caught a terrible cough, Miep covered for her.

Miep cared for them up until the time they were caught and sent to concentration camps, and luckily Miep wasn't sent with them. Or else, nobody would have ever been able to read the diary of Anne Frank, for that was one of the daughters of Miep's boss, Otto Frank. Miep is a lot like Mother Teresa, because although she doesn't think she's helping many people during the time, she really helped many by having Anne Frank's diary published. Many people learned of what really happened through reading that diary.

Christopher Reeve is also a hero. You might know him as the actor who played superman. After being thrown from a horse, and landing on his head and neck, he faced paralysis from the neck down, becoming a quadriplegic. The doctors told him he would never breathe on his own again, but Christopher disagreed. He slowly but surely weaned himself off the respirator, and was able to breathe normally. After this, he went all over the world to tell people how he didn't give up, and encourage them to do the same. In a way, Christopher is kind of like Mother Teresa, because he was able to spread what he believed in all over the world.

Mother Teresa is a very special hero. She grew up in Albania, and then went to a ministry. After she went to the ministry, she worked as a school principal in Calcutta, India. One day she saw some poor children playing on the streets, and realized that her life's work was to serve the poor. She started the Missionaries of Charity and founded the Niral Home for Dying Destitutes. She is like all of the other heroes, but I find her to be more like Miep Gies. She worked directly with people, and that is exactly what Miep did.

Of these four heroes, the one I admire most is Miep Gies. She went against the law and the Nazis to save her friend and his family. She kept the entire family safe for as long as she could, and I admire that.

You see? Anyone can be a hero, even you. Heroes are just normal people who change the way people think, live, and see. All four people helped the society in one way or another. All heroes have a story to tell, you just have to take time to listen. So remember to recognize the heroes in your life.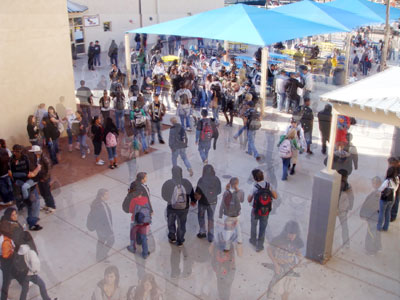 © Sergio S., Buckeye, AZ