Reed Alexander: From iCarly to Journalist
March 22, 2020
The way Reed Alexander, who played Nevel Papperman on iCarly, tells it, he was like a needle in a haystack. Growing up in a family where nobody, other than his aunt, was involved in the entertainment business, he told his parents that he wanted to get into acting, and they told him, 'that's not happening.'
Alexander grew up in Boca Raton, Florida where he attended elementary school at Pine Crest, a private school with a distinguished performing arts program. Alexander loved acting and was involved in many of the school plays, but he wanted to take his passion further. "I pushed for around six months and finally my parents came around and through my aunt, I was able to get a talent agent in California."
At the age of 11, Alexander started acting in the TV show Will & Grace on NBC which he described as a great experience. After being on Will & Grace, Alexander was able to land the role of Nevel Papperman on iCarly. Nevel is portrayed as a highly intelligent boy who has an ongoing feud with Carly and her friends. "So basically, the prelude up to iCarly was I had been doing these auditions on tape and going back and forth. But what was really fun about Nickelodeon was even though I wasn't a series regular, I really felt like I had a chance to develop the character on that show."
Prior to landing the role of Nevel on iCarly, Alexander auditioned for a role on the Nickelodeon TV show Zoey 101. Zoey 101 was created by Dan Schneider, the same creator of the countless other Nickelodeon shows including iCarly, Drake and Josh, Victorious, and more. Alexander auditioned for the role of Miles who he described as extremely intelligent and proper, similar to the role of Nevel. After two weeks had gone buy auditioning through tape, Alexander remembered believing that the role was going to be a great fit for him. He said, "I thought it was a really strong role but I guess they gave it to somebody else. But you learn in that industry even when you're young to take it and move on."
Alexander made his iCarly debut on the episode "iNevel," which premiered in 2007. He was on the show for around seven years and five seasons, and it ended right as he was going off to college at NYU to begin studying journalism.
Though the hit Nickelodeon TV show ended in 2012, Alexander still holds a strong friendship with many of his co-stars. He explained that every single person on the show left some impact on his life as he grew up on the show, starting it at age 12 and ending at age 19.
"Nathan Kress is a very good friend of mine, he played Freddy on the show and I just think he's a wonderful person," Alexander said. "Dan Schneider who's the creator is probably, to this day, my single most important mentor...he was one of the most supportive when it came to me pursuing what I wanted to do in journalism. I see him as somebody who will be a part of my life honestly forever."
Prior to going to college when Alexander was still living in Los Angeles as an actor, he found a passion for cooking."I was acting at about fourteen and started cooking a lot because I was living in LA and honestly was kind of lonely when I was offset," he said. "I started watching the Food Network a lot, which I loved and it was almost like cooking school. When I was 15, I had managed to lose 15 pounds and started a culinary blog."
Cooking not only became an ongoing hobby for Alexander but a new career that opened up many doors for him. Alexander went on shows such as Jimmy Kimmel Live and The Today Show where he did cooking segments. He went on to join the Clinton Foundation where he worked with students in various school districts across the country by teaching them how to eat healthily alongside President Clinton and his daughter Chelsea.
Alexander views cooking, which was merely a hobby at first, as the thing that eventually led him to journalism. "I decided when I was at NYU my freshman year that I would major in Journalism. I thought 'if I major in a career that doesn't work I can always switch to theater or dramatic arts' but I fell in love with it. It was absolutely the right decision for me and I did it for all four years."
Towards the end of his studies at NYU, Alexander became a breaking news reporter for CNN in Hong Kong and afterward moved back to New York City where he was one of the youngest to work on the staff of the Wallstreet Journal's Digital Network, Money-ish.
Alexander is currently a Senior at Columbia University in New York City where he is enrolled at the Graduate School of Journalism. "The kind of journalism that I do now is actually very hard news and serious. People are shocked sometimes and probably think 'what is this kid from iCarly doing?' since I do stuff with war and famine, unfortunately, some very hard stuff to report."
As of now, Alexander is working on a big investigative project with teachers that have lived through the school shooting at Stoneman Douglas high school in Parkland, Florida. Alexander noted that this project is specifically unique since he is honing in on how the teachers at Stoneman Douglas have and continue to provide support to students experiencing PTSD.
As Alexander is getting closer to graduation, he said, "I would very much go and write for a publication like Time Magazine...the New York Times would be a dream, places like that. I think the job I had at the Wallstreet Journal was a very cool journalism position but I just left it to become an editor which is a natural progression of things."
"Yeah, oh my god, I've done everything," he chuckled as I spoke to him over a facetime call. "I would say the hardest part has been being taken seriously in the beginning because I think a lot of people thought, as I said before, 'He was Nevel on iCarly, why would we ever get our news from him?' So I really had to fight to show people that I'm really serious about this."
From acting in the hit Nickelodeon TV show iCarly to reporting for CNN, the Wallstreet Journal, and more, Reed Alexander has experienced it all, and he can absolutely say that his transition from a career in acting to journalism was absolutely the right decision.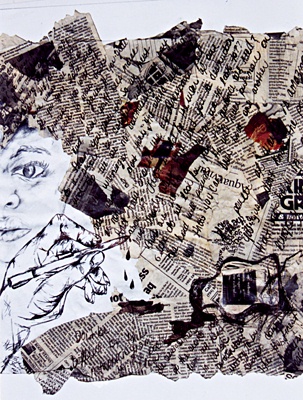 © Lashieta F., Kannapolis, NC