Smoke Stained Walls
March 23, 2009
When I was nine my family went to Pennsylvania to attend the burial of my father's grandmother. Because I was so young and did not know her, I saw this trip as more of a vacation than a trip to put family affairs in order. Bug eyed I stared out the rental car window when we first arrived in Pennsylvania, I was star struck by the hills and lack of aridness, it was my first time so far north. Everywhere was so much more moist, green and basically more natural than back home in the developed, tourist portal of Florida.
My great grandmother lived in the same house she did when my father was my age. The house was small and the darkest, deepest brown, contrasting against the mountains in the back. It was held up off the muddy ground by several beams just high enough for my cousins and me to slip under. Stepping out of our car after the long drive from the airport we instantly sank into the mud that surrounded the house. My Florida native cousins and I shrieked and instinctively ran to the porch, our jeans soaked in the brown mush. Once at the safety of the porch the four of us looked at each other and promptly jumped back down into the mud only to be scolded by our parents who wanted to make a good impression on the distant family.
Entering the house was like walking back in time, anyone in my family would tell you that, the smell of coffee and mold instantly grabbing and suffocating you. Looking around the age of the house was obvious. Everything seemed to give off a golden glow; the furniture, all tan or brown, was ripped and sagging; the off-white walls turned yellow by years of smoke; and the hard wood floor was coming off with every step. But still the house didn't look deprived or poor, just years of memories wearing away at it.
We spent much time at that house during our trip. My cousins and I played countless games of hide and go seek just to go under the house. My father shared with us numerous stories of when he was our age and playing at that house, especially when we found an ingrown building which after much exploration my dad explained to us it was his old hen house.
The house must have been set on a hill because behind the house after a short field the land dropped steeply. We spent many hours rolling down that hill but quickly jumping up so to not roll into the marsh at the bottom. However one day we decided to go beyond the marsh into the thick woods behind it. At first the woods were terrifying to the 3rd grade me, dark and muggy, unable to see the house behind us. We wandered for several minutes until we unexpectedly ran into a road, an actually quite busy road. After the shock of sudden civilization wore off we turned and laughed at our stupidity and headed back.
That house wasn't the only place that we stayed on that 'vacation' though. Our family actually didn't stay at that house at all. We slept at a local bed and breakfast. The house was beautiful, so different from the house my great grandmother lived in. It was two stories with long white pillars reaching from the white paneled wraparound porch. It was a dark red, almost crimson with white window frames covered by the many trees surrounding the house. The inside of the house was just as amazing but had a slight uncomfortable feel about it. Looking up in the foyer there was a beautiful chandelier that just lit up the room. However that light did little in the huge room. Every wall was covered from floor to ceiling in wood making every room seem smaller and darker than it really was. There was stillness about the house that made any speech above a whisper seem completely unnecessary. Walking into the house my eyes and the eyes of my cousins were instantly drawn to the spiral staircase leading up to our rooms. My cousins and I spent little time in our rooms, they were the just big enough for two beds, smaller than the average hotel room with one little window. So we spent the majority of our time on that spiral staircase playing War. To us that staircase wasn't just a bunch of stairs leading up to our cramped rooms; it was a showcase of who was winning. As you won a came of war you would move up the staircase. As you can probably guess, this prevented anyone from going up or down which greatly annoyed everyone and created an unnecessary tension.
By the time of the burial our whole family was fighting. However, at the burial my cousins and I got to each bring a flower up to her grave which really brought a calm over the family and everything seemed to simmer right there. Nothing else mattered, we were family and that was that.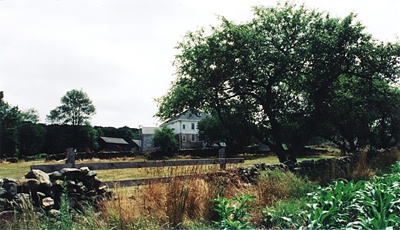 © Elizabeth B., Norwich, CT