Sunlight Through the Smoke
MAG
January 25, 2009
Fire looks more dramatic with snow providing a stark backdrop. This was the perfect day for a house fire, if such a day exists.

An hour before, I had been sitting at my kitchen table, eating dinner with my dad and reveling in the glory of my earlier Scholastic Bowl tournament. Now, I stood, shivering and frozen, blankly watching smoke meander through the broken windows of a house that used to represent everything good in the world.

I had not worried when the phone's shrill ring had interrupted dinner, echoing the screaming sirens of the fire trucks that, at that moment, were speeding to my late grandparents' house. It's not in my nature to expect the worst. I had worried, however, when the first sentence my dad said into the phone was, "Are you serious?"

I had calmly put down my fork and taken a deep breath, waiting for his conversation to end. I always know when something bad has happened – a death in the family or something someone did wrong – from the inflection in my dad's voice as he asks that futile question, knowing that his words will have no impact on the tragedy unfolding. So, I had sat, bracing myself for the news, still hoping for the best.

"The house is on fire," he'd said, knowing we'd understand that "the house" meant the small, one story home he'd grown up in, the house his sisters now lived in with their children. He had gone on to say that it was electrical, which made me feel immensely guilty, because my first thought was that some fool had been playing with one of the many cigarette lighters scattered around the house like Easter eggs.

After five minutes of him yelling, demanding from the indifferent silence of our house what would happen next to our family, I'd asked, "Should we go over?"

"I don't even want to see it," my dad answered, pulling on his coat.

The car ride had seemed like some horrible, inconvenient maze. We could have ridden our bikes through the dark night, down our street, around the small lake, and through the woods, but the car seemed the more sensible alternative with temperatures that scoffed at the sight of scarves and gloves. We had stopped at all of the mocking stop signs. It never ceases to amaze me how juvenile simple acts seem under intense circumstances.

I had been wondering what to expect: a raging inferno, ruthlessly demolishing this center of my childhood memories, or the wimpiest flicker of flame we would laugh about in two weeks? As we pulled into the parking lot of the nearby forest preserve, fire trucks had blocked any view of the house, making our anticipation even harder to bear.

Now, I stood watching, so cold I wouldn't mind warming my hands over the embers of my cousins' bedroom. Three of my aunts stood on the sidewalk beside me, shivering in the wind, wearing only the clothes they had on when the wall burst into flames.

"They broke all of the windows, Tony, every single one," one aunt told my dad, her teeth chattering like miniature maracas.

"They pulled the boys' mattresses out, and they were completely charred," another said.

"Just what we need," moaned the other.

One aunt went to talk to the firefighters, who mentioned something about a hotel. The other sat in the car with my dad, trying to warm up. I stood there, getting a headache from the flashing lights of the three too many fire trucks crammed into the dead end.

Don't cry, I thought. Wait, just wait. Wait until you get home. You don't know the exact condition of the house yet, so don't get all emotional.

"Well, there goes everything left of Grandma and Grandpa," my aunt choked, as I bit the inside of my lip. That wasn't what I needed to hear.

An hour later, with two cousins, my brother, and a whimpering dog, my dad and I returned home. I called the only person I knew I could talk to, someone who would listen and not be scared. He came over, and I broke down. Like anyone experiencing a house fire, I listed all of the material objects lost, in addition to the irreplaceable paintings and mementos damaged by smoke, water, fire, or a combination of all three.

I explained to him that the worst emotion I was feeling was shame and disappointment. My family seemed to be falling apart as easily as the house had. I was angry. I felt that my grandparents were looking down on this catastrophe and were disappointed in us, even though I knew that the fire wasn't anyone's fault, just old wiring. My anger stung me as relentlessly as the frigid air had.

We talked for the rest of the night, and when he left, I felt better, more optimistic. I understood that it was an accident and that I shouldn't feel ashamed. I knew all of this, but something inside me remained unbalanced. There is a huge difference between telling yourself to feel a certain way, and actually feeling it.

I wandered downstairs, feeling hungry. My cousins were at the kitchen table. They began telling me about the fire while I made us peanut butter toast, clearly not a meal, but something to put in our stomachs.

Suddenly, one said something that made more sense than any of the garbage I usually hear. I'll admit that I'd never been especially fond of him, and had made that clear many times, but what he said restored my balance.

"Our bunk bed was completely destroyed. If the fire had happened during the night, we would have been sleeping. We would be dead right now. Grandma and Grandpa were definitely watching over us. I have no doubt," he said.

There might as well have been dramatic lightning and angels singing, because at that moment, an epiphany slapped me in the face. How blind I had been not to see the unfortunate situation in a grateful, divine way. I had twisted it into some demonstration of everything wrong with my family, rather than feeling lucky that someone was looking out for us. I called my friend to tell him that I now understood what he had been trying to say. I fell asleep feeling sad about the fire but not angry.

In the two weeks since that day, I have accepted that some things are beyond my feeble control. I am forever grateful that no one was injured. The house will be gutted and rebuilt from scratch. I can't bring myself to go see what it looks like; I don't want to taint my memories with a dark, dirty misrepresentation of the place I love.

I believe there is a greater reason behind this experience. I am not ashamed or disappointed, because I know everyone is doing the best they can. Most importantly, I know that we are being looked down upon with nothing but pride and occasional laughter. After all, it just wouldn't be my family if 2009 hadn't started with a bang … literally.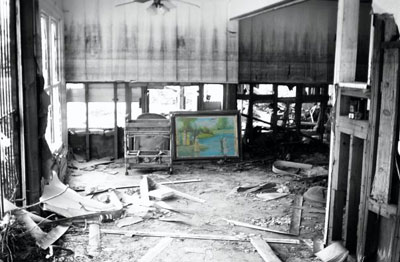 © Carson P., Nashville, TN