Stereotyping
December 30, 2011
Take a look at a teenager. A good, educated look. Don't look at the piercings that dot their ears, the colorful hair, or the revealing clothing that you would get a belt to the butt if you wore as a teen. If you do look at these things, it's called stereotyping. Yes, not all stereotyping is from a different race or religion or even gender. It can also be from age and frankly, it is completely wrong in any circumstance.

Picture this: You have been writing a story, and suddenly the dreaded writer's block set up its forces in your creative brain. Then, you break down and ask someone for an idea to continue your wonderful paper. They pop a magnificent sentence out of their mouth—Voila! You can pick up your pencil and start again. That is where teenagers come in. This country and this world wouldn't be running as smoothly as it is if teenagers didn't exist. They give people fresh ideas and fresh starts. In fact, almost 2/3 of the inventions today wouldn't be here if teenagers hadn't taken risks and gave others new and prosperous ideas. Just think about how insipid the planet would be!

I've encountered many times when an adult belittled me due to appearance. Once, early this freshmen year, my science teacher displayed a perfect example of stereotyping. She took one look at me the first day of school and pegged me as a bad seed. This was due to my exterior. I had blue tips and streaks decorating my otherwise brown hair. Really, I did this because the mousy quality of my hair bothered me immensely, so I figured that the blue would give it some flair. As soon as I took my seat toward the middle of the classroom, she called me out, "You, Miss Blue Hair, come and sit in this desk next to me. I have a feeling that you will be a troublemaker."

I obeyed her, but I thought to myself, "Wait until she realizes how wrong she is. I am an all "A" student, I'm on the basketball and swim team, and I am on the yearbook committee." Her statement couldn't be farther from the truth.

Luckily, we have settled our differences. She apologized to me with sincerity in her eyes toward November. She stated how ignorant she had been, and now she is my favorite teacher. It was insulting to me, though, to think that I give off the thought of troublemaker just because I changed the color of my hair. I feel that I probably came across as a rebel; she admitted that she figured I did that to make my parents angry. Stereotyping can lead you into deep water because you judge people before learning their personalities.

It can change. Yes, it is almost second nature to label someone you see walking by. We have the power to stop it. If you've ever seen someone quit smoking, it is the same concept. Society will change, and I bet teenagers can help it.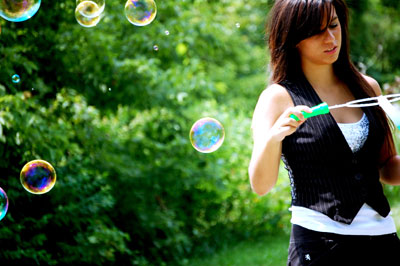 © Brianna C., Lincoln Park, MI