Thinking of You
September 24, 2011
I know I want to write, but I don't know what to say. That sounds weird, doesn't it? But it's the truth. I want to tell you that you look nice, because you do. I've never seen you dressed up before. It's different. But I know that your reason for being so dressed up isn't a happy one.
Yet you smiled when you saw me today, and kept hugging and thanking me for being there. I couldn't reply. My throat had closed. I wish I could have stayed, but time was short.
I hope to see you tomorrow. I want to keep on hugging you, because during all of this I've learned something important: I care about you. I adore you. Yes, I might as well say it. I love you. There. I've finally told you. With just a simple stroke of this pen, my feelings for you have been released. I love you. Why else would I hurt when you hurt, laugh when you laugh, go where you go?
Every time I see fish, I think of you. Every time you miss church, I miss you. Life just isn't the same without you. You make it worth living. You make things fun.
And if you weren't around, well, I don't know what I'd do.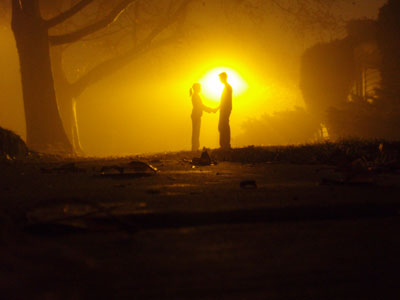 © Tanner H., Kaysville, UT