Anna Rose
June 9, 2009
I always wanted another sister. Sure I already had five siblings- four brothers, one sister- but I wanted another one. Another girl in the family to even things out. Maybe this time around, I could be a part of her life. Attend her first birthday. Be there when she unwrapped a box three times her size that was stuffed with bears, rabbits, and stuffed horses.

My other sister- Makenzie- didn't have me in attendance to one of her birthdays until she turned six. I saw her when she was a year old, then when she was four, then never again until she turned six. I missed out on so much of her life. By the time I saw her again, she was so grown up. She's was six going on sixteen. She was Miss Sass and Frass. Miss Independent. Miss "those are my boys, so you better leave my brothers alone". She wasn't the little girl I used to know... despite the obvious height difference.

So when my mom remarried for the third time, I could imagine them having another child. I could imagine my step-dad holding a little pink bundle, singing (terribly) to her when she cried, tossing her up into the air and catching her safely. I could imagine a little girl running before she walked. A little girl with long ringlets like I used to have, but instead of dark, they'd be the color of fire. She'd have the round face only my mom and me have, but she'd have the baby blue eyes that we all used to have as children.

She'd be the spice of the family. Kyle was the tough guy, Matthew the sports star. Morgan was the lover and Makenzie was the diva. Magnum is the funny jokester who is the nicest ray of sunshine anyone could ever meet. And I'm sort of the hesitant writer too scared to step from her own world. So this new addition to the family would be the spice, the pizzazz, and the flair. She'd be one of the boys and the prettiest girl. She'd be naive about the ways of the world, but still know what was good and bad. She'd be the perfect combination of sugar, spice, and everything nice. She'd be Blossom, the leader of the Power Puff Girls.... okay, maybe not the Power Puff Girls, but she'd definitely be a future Wonder Woman.

But then my mom had surgery and all thoughts of having another little sister disappeared. I really wanted another sister. A beautiful little red head with oddly placed freckles and a birthmark the shape of a rose. She was going to be an honest to goodness southern belle in my mind, but now she won't be.

I know this may sound strange talking about a girl who will never exist... especially when I have five other siblings. But you see, I wasn't around when my other siblings came into the world. I wasn't there during the nine months my mom thought of name after name and went to ultra sound after ultra sound. I wasn't there the day the blue or pink bundle was brought out of the room.

I don't have a very close relationship with most of my siblings, but I want to. It's just hard sometimes, knowing that I've missed so much of their lives and yet they're still so young. They think they can do it on their own, think they don't need a big sister. So maybe, the new baby would have been my chance at a sibling whose life I was actively involved in.

But I won't get her now. I won't get to meet the beautiful redhead southern belle with all the sass and frass of the south and with enough strength and guts to take on all the boys.

I won't get to meet Anna Rose Smith.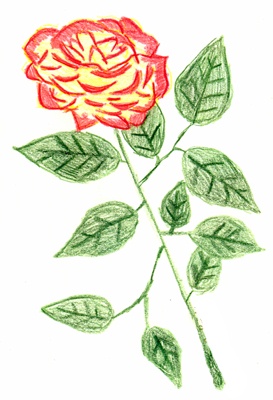 © Kelly Z., Niscayuna, NY