Remembering Lissy
May 1, 2009
<3

I am not dying, not anymore then any of us are at any moment. We run, hopefully as fast as we can, and then everyone must stop. We can only choose how we handle the race. Now it's my turn to stop. I look at this quote, Hugh Elliot's words, and think: "that was the message she gave us. She spoke without a sound, only with her gorgeous, sad eyes. But that was what she said that horrible day of losing her." Thinking back five years ago, I remember her secret love, her smarts, her beautiful personality and snow-speckled white, healthy body. I remember when she backed into a ditch when my mom was on her and wouldn't get out, how she'd limp to try to get out of work and then get tired of limping on that leg and switch, thinking we wouldn't notice. It makes me smile thinking of these cherished memories of her.

She was our second horse and free in both ways. She was a free spirit and cost nothing. A gift to us, and a great one. She pretended like she was the ruler of the world, but she loved her life and people just like we loved her. When she got sick, she acted nice to us. This was strange for her, but we always healed her back to heath so that she could get back into the pasture and boss around her herd. But there was one day that was different. Cassie was sleeping over at my house, and together we happily walked out to the pasture to mess around with the horses only to discover Lissy laying in the chipped red paint tin shelter that we called the Quonset hut, awaiting us to try to make her better one last time, although we didn't know it then. Her great white body slowly sunk in and out, breathing deeply and painfully from her twisted gut.

I calmly and quickly ran to the house to get my mom. We got a halter on her, made her stand up, and the familiar feeling came over me. We had done this before. Everything is going to be okay, I told myself. She's just colicing again. Cassie and I walked her around for what seemed like forever, trying to get her to pass manure so her digestive system wasn't packed. But it never came, and every minute we got more and more worried. That feeling became stronger hour after hour until it was unbearable, so we finally called the vet. He said he would be out soon, and darkness began to set. We waited, and finally the truck carrying the man of hope came to serve us.

He examined her, gave her drugs, everything. But he didn't–or couldn't–tell us what was wrong. He told us what we didn't want to hear; we would have to take Lissy to Cleary Lake for them to see what was wrong. Quickly, now knowing the seriousness of the matter, we hooked up our dually truck to our old, small, and white two-horse trailer, and she willingly walked in, now just as concerned as we were. We drove there in silence, lost in our own thoughts and worries. What made this time so bad? How could our old gray mare get so sick? We pulled into the wide driveway, unloaded Lissy, and put her in the stall. The vets checked her out again. All of it was a blur. Finally, the results were in…the vet said she had a melanoma, a form of cancer that occurs in older grey horses and it was blocking her digestive tract. We would have to endure a night at home for the vets to figure out what to do. We said goodbye sadly, and went home to continue our troubled sleepover.

We returned the next morning with hope and dignity. I ran up to the stall, and saw a big blue foam thrash mask on Lissy's head. Fear came like a snowstorm; I realized that things had gotten worse. Much worse. She moaned at my presence, and didn't even look up. Cassie and my mom walked up slowly, not wanting to see what had happened over the rainy hours of that night. As we walked into the stall to lie down with her, a male vet came up and talked to my mom. Cassie and I sat by Lissy's head, talking to her and stroking what was showing of her face, and listened to the hushed whispers of the secret conversation beside us. I heard my mom say quietly, "No, she's too old for surgery." And the vet, "Well, there aren't any options then."

A weight fell in my heart, sinking it deep in the ocean. Aren't any options? I looked a Cassie and she looked back at me, as scared I was and I knew she had heard and felt the same thing. I was too shocked for tears. An hour later, he came in with the syringes that would end her life. One small one to tranquilize her, and the big, blue one that would put her to sleep...forever. The only thing I remember those last moments is laying my head on her heart and hearing it slowly halt. I didn't hear my mother crying tears onto Lissy's face. I didn't hear Cassie sobbing "Goodbye, Lissy. We love you." I just heard her heartbeat and felt the calmness that we did the right thing. That look in her eye meant that she was done. Cassie and I walked back to the truck as my mom settled things with the vet. It wasn't until we started driving away did I cry. I cried my heart out. My stomach hurt, the wrenching feeling that my heart had suck to the bottom, and now it was drowning.

But now, five years later, I still miss her. More memories flow back to me now about how she taught to be the great rider and person I am today. How she would bolt out to the hay field when a beginner was on her and throw them off safely, just to teach them and us a lesson. How we had to heal the bite wounds she caused to the rest of the herd constantly. Our old gray mare is still here in our hearts and I will never forget her and the life lessons she taught me. Everybody needs a Lissy.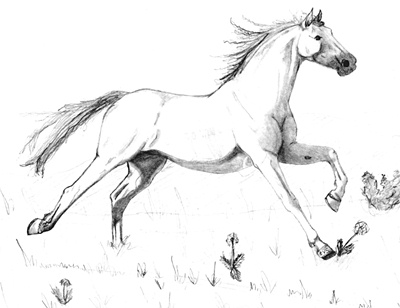 © Elissa S., Palmyra, PA