Grateful for Ignorance
November 27, 2008
Tap, tap, tap, tap… My shoes beat in tempo as I walk into school, slowly, paced, following the rhythm of my breathing, and the song I'm listening to that spills out of my ears. A few friendly smiles greet me, a few annoying hello's that pierce my ears. But, I must admit that they do wake me up. I wave back and offer a smile every now and then until finally, there it is. Locker number 500, my locker, a place that I don't very often spend time in, but have to visit every morning and every afternoon on weekdays. Gathering a pile of hard-studied books and lifting my 10-pound backpack onto my shoulders, I head to homeroom, with a smile on my face.

The teacher hands out flyers: baseball tryouts, food drives, and oh, a newspaper meeting next week. And before we know it, my classmates and I are all kicked out of class heading to first period. We sit down, read five pages in a textbook, and moan and groan as we're assigned another five questions to complete based on what we just read. Oh, the torture. Now onto second period, half an hour of running around, pegging each other with balls, and laughing hysterically. But boohoo, PE is over. Now for algebra, oh no, we forgot about the dreaded 15 question quiz in which every question is material that took us less than 90 minutes to learn and master.

The morning soon passes as we all unleash our primitive adolescent selves at lunch. Stuffing our mouths with as much food as possible and beginning to talk. And, of course, the daily food fight, where all contestants will compete to see who can throw buttered bagel chunk so that it directly hits that sixth grader's head. What an accomplishment. Then the principal comes in and settles things down before we slump into our last two classes of the day. No homework except one teacher. How evil is that?

Finally, lets go home. Weary and tired, we have to lift our achy 5-pound backpacks onto our shoulders and trudge home in 50° weather wearing the best jackets, scarves, gloves, and boots that the mall has to offer. Oh the pain. A few friends surround my sister and I as we tumble downhill to our cozy little house. Like every other kid in town, we're completely oblivious to the surrounding world. Well, why should we be aware that right now, a child is lonely and hungry, and no one cares? What does it matter to us that a mother just died of a horrible disease because she cant afford medicine, and left her children alone in the cruel world? How does it affect us that right now, kids, probably our ages, are being beaten to death by their parents? Why should we care?

There's a girl somewhere who dreams of growing up to become someone, but she can never be anyone, say her elders, because she is a girl. Born to cook, clean, give birth, watch the children, tend to her overage husband, and nothing more. How can she go to school anyway? Who will pay? And, every month, she will have to miss out for one entire week, so eventually the school will kick her out as well. Then everyone will take their time tormenting her and laughing at her pathetic attempt to be something more than what everyone expects her to be. And no suitable man will marry a joke like her, so she'll have to settle for what she gets, not like she has a choice, and be a slave once again and now, forever.

That little girl will grow into a woman someday, and grow tired of looking at her face in the mirror and seeing no one. She will blame herself, although she has done nothing. And, her husband won't do much for her either. He'll help her realize what a failure she really is, for even thinking that she could be someone. And, after a good mental beating, and probably even a physical one, she'll be sent back into the corner to do what she's supposed to.

Somewhere in the world, a tiny infant is crying. His mother just died from giving birth and he will be raised in an orphanage. He has no father, and no family to turn to. So, he must follow the senseless rules laid down by his institute so that the people running this "caring" facility can make a few extra bucks and call themselves helpful. He is constantly beaten and starved for no good reason and persistently reminded that he is worthless. Soon, by the time he's in his adolescence, he is kicked out and left to find a job of his own. And, who will hire him, a stupid little orphan boy?

He'll go nowhere, and he will become an animal. He has no sense of life anymore, just an instinct to survive. He just wants his daily meal, if he's lucky enough to get one. Probably doing jobs such as slaughtering fish, and hauling manure. He'd do anything for a warm bed to sleep in tonight, but that's just a dream that will never come true. He'll find a tin roof, and he'll have to wake up early so that the owners don't find him and chase him away.

Right now, we're supposed to feel grateful for all that we have in this life. And honestly, we just look forward to the big meal ahead, the load of presents, and the fun of goofing off with all of our families. But right now, I'm grateful. I'm grateful for my parents who have given me the world on a silver platter, opened every door there is for me to be someone, and relentlessly reminded me that I will always have a home to return to. I'm grateful for my sister who never fails to make me laugh, because she knows how much I love it. I'm grateful for my teachers, who come to school with one purpose and allow me to be who I am. I'm grateful for my friends, who remind my ego that there's something called an opinion. I'm grateful that I live in such a world, where anything and everything is possible, and a place where I really can do anything as soon as I set my mind to it. Because of this, I am ashamed that I hadn't opened my eyes up earlier in my life and really seen all the possibilities. But, now I know that I have no limits, and I will work for my dreams to come true, since I have absolutely no doubts. I am grateful to have lost my ignorance.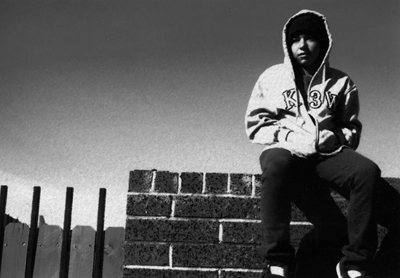 © Stan G., Phoenix, AZ