Mary's Intentions and Delaney's Impressions
December 7, 2012
With shaking hands
And calm, even breaths,
I placed a brown paper bag
Over my Christmas present.
I suppose she gifted it
With the intentions of her eldest granddaughter
Becoming even more beautiful;
With the hopes I would purchase real makeup at the local drugstore—
Real, synthetic carcinogens—
And pull my hair out of my face for once;
With the intention of helping me become
"Pretty."

I had to tug at the edges
To fit the bag over the circular metal frame,
But it was snug and at home inside.
I looked at my work and heard the echo
Of the innocent, curious five-year-old girl
Who was just young enough to impress upon
The irrelevance of reflection.
Instead, she pointed behind my jars of pens
And countless folders of ink-covered pages,
And said with unclear speech:
Is this where you put on your makeup?
I felt alarm that a child who hadn't even started Kindergarten
Already knew of painted faces
And recognized that I was old enough to possess one.
She spoke with a sort of dreamy curiosity
As though she looked forward to the day
When she would have lived as many years as I
And have the same gifts
And yet own Narcissistic ideas,
Tips for false advertising written in the folds of her brain
Where Hegel's legend should reside.
She would not fear the lie that is shiny glass.
She spoke as though stereotypical superficiality is a good thing.

Part of me hopes she soon returns to my room
With her blonde curls and love for unicorns
And she would pick up useless objects,
Inquiring their functions and purposes,
Instead of her own.
She would stop when she noticed her face missing from the clutter
And would question the paper sack in its place:
What's that for? Her loud voice would ring out.
And I would reply,
Not in the voice I use to address impatient children
But rather people I believe things are worth explaining to:
That is there to remind me
That it is more important to be kind than to be 'pretty'
And that a piece of glass cannot tell me who I am,
Only the packaging I come in.

And it will take years for m y words to reach her ears
But when she receives the same gift
She might see the truth written on the box:
Eleven-inch diameter VANITY mirror.
She may be able to complete the task
My hands have been longing to do for years:
To paint the mirror black.
Perhaps she will buy a can of spray paint with her own money
And make the irrevocable statement
I can only dream of making.

Or maybe the words will take a detour
And never fully register,
And she will accept the present with a genuine smile
Eager to stand before it,
Slathering her face in fake beauty,
Burning her hair in hopes a faulty man will find her 'pretty',
Forever a slave to the lie of physicality,
To appearance.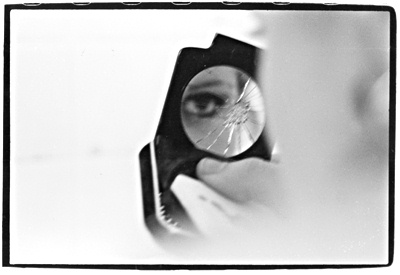 © Heather W., No., Brunswick, NJ