C'est La Vie
October 9, 2010
C'est La Vie!

I love this earth and deeply appreciate the inconspicuous wonders about it. As I sit in this green, manicured lawn on a handmade blanket in Fairview, Oregon, where the heat beams down on my house in July, I think about how much I can't wait to explore this great and wonderful earth. I can't wait to discover all of the amazing wonders and even atrocities.
I want to travel to Sicily and Santorini, Barcelona and St. Bart's. I want to feel my soul run wild and my heart be full of love. I want to sing along to the song of life. I want to be free and feel my bare feet against the fresh grass in Ohio where cows roam aimlessly. I desire to go to Iraq and teach them of love and freedom and of God, in that they will learn that there is so much more to life than money and power. Our Lord God is up in his kingdom waiting for us to finally enjoy this earth that he created for us. Our planet is crying out to us, asking for attention, care and appreciation. Let's live this life. Let's smell the roses and soak in the rain. Let's discover the rich culture of an unknown country, discover love deep in our hearts that we didn't know we could feel.
I hear the sound of my pond to the right. The fountain trickles cold water for the coy to bathe in. To my left is the distant sound of the blue jays chirping a song of happiness and the faint smell of barbeque wafting from my neighbor's backyard.
Once again, I cry out to you. Let's live our lives! So, the grass may brown or a flower may wilt, but C'est la vie! That's life! Through the good and the bad, we will continue to find good in every situation. That's life. Life can still be great even after Adam and Eve committed that first sin, and even after God put a curse on this earth. Life can still be good. So, my friends, let's get together and live this amazing life.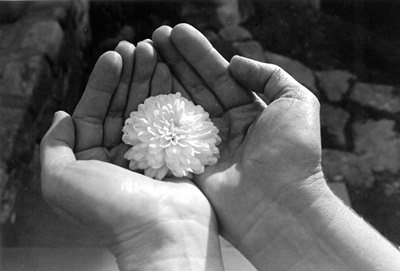 © Beth S., Marblehead, MA