Instagram - Covering Up the Realities of Life
June 4, 2015
Instagram, one of the most innovative social media sites of the decade has given people the power to filter their life, both literally and figuratively. By just the taps of a few buttons, adding filters, and blurring out tiny imperfections, many people are using Instagram, and many other social media networks to conceal the reality of their lives by creating a "fake" image of them for everyone else to see. The accessibility of these tools makes it extremely feasible for people to fall into this deep, deep trap, until they realize that they are not who they portray over social media, but find themselves onlu hoping that they were this "someone else".

It is especially easy for these people to lose their real self through social media, since it is the place where people display their "ideal" self-image, or in other words, what they feel they should look, act, and be like. Portraying this image covers up who people really are, including their attributes, values, ethics, and personality-which is impossibly to display all in one picture. Does a picture of you at huge party really display who you are inside? Or rather the exemplary, flawless person that you wish to be in the eyes of your peers? Often times, we adjust our selves to be an ideal image due to societal pressures powered by status, competition, and accomplishments. A nationwide study surveying teenage girls, ages 14-17, concluded that 74% of girls agree that most girls use social networking sites to make themselves "cooler than they really are". This study proves that even from a young age, people find themselves masking who they really are with hopes of being accepted by society.

The death of Madison Holleran was perhaps the biggest wake up call of this awful "social media masking" epidemic. During her freshman year of college, Madison leapt to her death after suffering through an immense battle with severe depression. Her death was a shock to most everyone who knew her, except her immediate friends and family. In the eyes of many, the beautiful 19-year-old University of Pennsylvania track star and prestigious student seemed to be living the ideal life of a popular and successful college student, which was constantly reflected in her numerous photos on social media. After posting on Instagram with her friends at a party, Madison's mother remarked, ""Madison, you look like you're so happy at this party", "It's only a picture", replied Madison. And for Madison, it was only a picture, as her posts covered up all of the issues she was battling with internally. Her profiles on social media exemplified an ideal life of a happy college student, but as soon as the camera flash was over, Madison returned to dealing with more issues that a picture simply cannot capture. Madison's posts seemed to conform to everyone else's superficial expectations of her, as her extreme efforts to portray this fake image of her "ideal self" resulted in her loosing touch with herself, her peers, and her surroundings. She unfortunately turned to suicide as her solution. 
Whether it's a picture with a bunch of friends shopping, a beautiful beach on a fancy vacation, or an exquisite dish at a five star restaurant, people nowadays feel the intense urge to display their lives as completely ideal. Even if victims of this do not go to the extent of posting pictures displaying an extravagant life style, most at least display their lives as one that complies with and abides to the current social norms. Social media also gives people the power to say and do things that they normally wouldn't do in person, which makes it easier for people to display a false portrayal of themselves. In other words, while people are using many filters in hopes of producing the perfect photo, they are simultaneously masking the imperfections of their own real life while creating their "ideal" image of themselves on their social media. All of the attributes, values, ethics, and personality that individualizes us as people will diminish, and our world will be filled with walking zombies who have lost touch with themselves, and as a result turn to social media as their boost of confidence. This menacing epidemic requires immediate awareness, and demands to be stopped.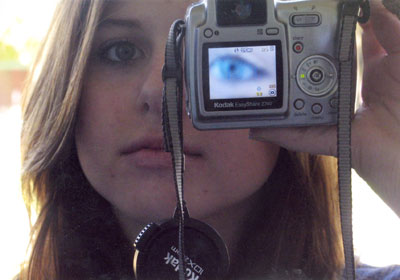 © Jessica M., Phoenix, AZ