The Truth About Eating Disorders
MAG
May 1, 2015
"Here's your bed," the nurse said, pointing to the plastic cot in the corner of the room.
I just nodded and mumbled a pathetic "thank you" as she walked out. I did not want to be here. I didn't want to spend one more second in this place, let alone two to three weeks. I put my bag on the chair and sat on my new bed. My doctor came in and asked my tearful parents to leave.
"Welcome to Torrance Memorial Hospital," she said. I still remember the condescending and forceful tone she used. She explained the rules of my program – my everyday schedule, eating portions, free time – but what I remember most was the toilet rules. The bathroom had to be locked so I wouldn't run to it behind nurses' backs. If I needed to use the bathroom, I had to call a nurse to unlock it and have her watch. I cringed when my doctor explained that, not because I felt shy about being watched, but because now I couldn't go back to my old ways.
The program started immediately. First was Snack Time. I had to eat with Eva, another girl in the program. I guessed that she was anorexic because she was deathly skinny – or beautifully skinny, as I used to think. I compared every part of her to me: her thighs, her stomach, her chest, her cheeks. It drove me absolutely insane because I knew I was the larger of the two of us.
It was a tough fight, but what I learned when I left the hospital was that it didn't matter if Eva was smaller than me. What mattered was that my fixation on how I looked almost cost me my life, as it almost cost Eva hers.
Along with Eva and me, there are approximately 30 million people in the United States alone who suffer from an eating disorder. These ailments are destructive, frightening, all-consuming, and obsessive. In our society, there is a huge stress on how we look. This comes from the desire to be perceived as perfect. Many – if not all – teenagers experience this kind of pressure, but some go a lot further than others. Instead of choosing a salad over fried chicken, many boys and girls either eat and then purge or refuse to eat at all – both of which starve their bodies of nourishment.
I understand them. I feel them. I was them. Being considered perfect was my only goal in life, and I was willing to do anything – healthy or unhealthy – to get it.
So where does all this pressure about our appearance come from? Didn't our parents always tell us that beauty comes from within? Well unfortunately, that's not what many companies – such as Abercrombie – want us to think. Abercrombie is known for selling cool, hip clothing to teens and young adults. The brand was at its height when CEO Mike Jeffries made it clear in an interview with Salon magazine that he didn't want fat, uncool kids wearing his clothes. Even though this tarnished Abercrombie's reputation, it didn't change anything in the long run. The number of eating disorders in the nation is still growing and companies today still like having their products presented by tall, skinny babes rather than short, curvy, average girls.
During the worst of my eating disorder, I would get very scared – scared of myself. So one day, I decided to get over my fears and look up eating disorders to try and understand myself. What I found was very disappointing. I found two kinds of articles: papers written by doctors or disorder specialists explaining the boring medical side of it, and exclusives from magazines about random celebrities having eating disorders and how much weight they lost. Of course, all the comments on these articles pointed out how horrible it is to starve yourself and force yourself to vomit. However, I can't tell you how many times I've overheard the words in the girls' bathroom: "I'm so fat. I need to lose weight." Is weight loss more important than health? It sure seems that way.
The bottom line is that eating disorders are deadly. They befriend you then stab you in the back. They become a shoulder to lean on until they turn and watch you fall. It's not always easy to see who is struggling with an eating disorder because of how private and secretive a sufferer can be, but if you notice a friend who seems isolated and excessively critical of herself, give her a hug and tell her, "It will all be okay." I wish someone had said that to me when I really needed to hear it.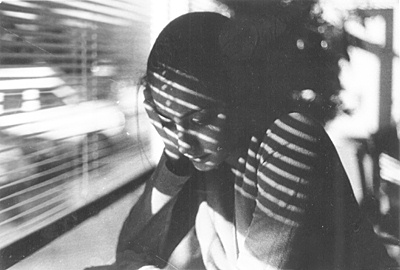 © John O., New City, NY